Most investors have had the experience...
It's an especially bad day in the markets. Your portfolio is a "sea of red" (from all of the losses). You turn on the financial news... And you hear analysts say a crash is starting.
Should you sell everything? Stick your head in the sand and ignore the news?
This feeling of confusion is natural and very common. If you haven't had this experience, you're part of a small minority... or you haven't been in the markets long enough.
Fortunately, knowing what to do is easy once you learn about and start using stop losses.
We're revisiting this big, important idea today because the August stock market correction is still fresh in most people's minds... And it provides a great example of how stop losses work in practice.
Before we get to our example, let's review this big, important idea...
A stop loss is a predetermined point at which you'll sell a trading position if it reaches a certain level... no questions asked. They are designed to limit trading risk and to remove emotions from the trading decision.
There are lots of different ways to choose a stop loss... But two of the most common are "trailing stops" and "hard stops."
A trailing stop is calculated as a percentage below a stock's highest recent price. For example, let's say you buy a stock at $10 per share and use a 15% trailing stop. When you enter the trade, your stop price is $8.50 (15% below your purchase price). But if the stock rises to $20, you sell the stock if it falls to $17 (15% below its high, while you've held shares).
The beauty of trailing stop losses is that they allow you to stay in during the uptrend... while providing a predetermined plan for exiting positions when the trend turns lower.
A hard stop is chosen before entering a trade and remains fixed. You can use either a specific share price (like $8.82) or a percentage below your purchase price. A hard stop gives your trade a lot of "wiggle room" on the upside... But it's not flexible on the downside. So it's unlikely you'll lose much more than you originally decided is acceptable.
With our "
trading-for-income
" strategy of selling options in our
DailyWealth Trader
service, we often use a hard stop 15% from our cost basis. If shares fall 15% below our entry price (adjusted lower for the income we collect), we close the trade and limit our loss.
Those are the basics. Now, let's look at what happened in the stock market back in August...
Starting on August 17, the benchmark S&P 500 Index dropped 11% in just seven trading days. It was the worst pullback in four years... And nobody knew if the correction would turn into an all-out bear market.
In DailyWealth Trader, we recommend using stop losses on every trade. So we didn't have to guess what was coming next. Our plan was in place. We knew exactly what would cause us to sell. And as long as we stuck to the plan, we wouldn't sell prematurely.
Sure, we took losses in August. But those losses were much smaller than they would have been if stocks had continued lower. And for nearly all the trades that didn't trigger our stop losses, we're now in a much better (more profitable) position.
One of the clearest examples from the DailyWealth Trader portfolio is our July 22 recommendation to sell the August $123 puts on electronics giant Apple (AAPL). As you can see in the chart below, we came within 1% of hitting our 15% hard stop loss. Had we panicked and sold the stock, we might have lost 14.5% on the trade. Subscribers who stuck to the plan, though, were able to sell covered calls in September... And even after last week's pullback, they're now down less than 4% on the trade.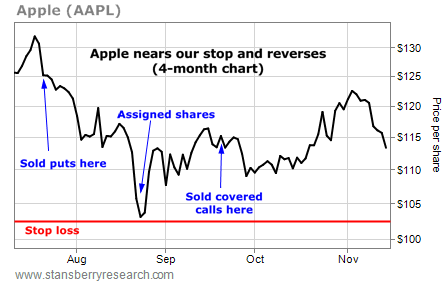 There are a handful of similar cases... And with all of them, we avoided booking big losses by sticking to our stops. We now have the chance to close the trades for profits.
This is one of the most important lessons you can learn from the correction in August. In the face of losses – and the prospect of bigger losses to come – it's hard to stick with the plan. But "stopping the pain" is not the right move. Not before your stop losses are triggered.
Whether or not you passed the test in August, learning this lesson now can dramatically improve your returns in the future. If you don't already, make sure to use predetermined stops on every trade, starting today.
Regards,
Brian Hunt and Ben Morris