A note from Jeff: Sometimes the market likes to remind me it doesn't operate on a publishing schedule...
I had planned a detailed essay on a significant pattern forming in iShares Barclays 20+ Year Treasury Fund (TLT) and how it predicted a big move, either up or down. And then the market beat me to the punch.
Yesterday, the exchange-traded fund that tracks Treasury bond prices fell more than 1.5% to a little less than $122 a share. That's a clear sign the trend is down. The first price target is the September low at about $118. But if we get a decline on par with what occurred last April, then TLT could revisit the July low at $114.
Even though the market showed its hand early, the technical analysis I detail in this piece is important for traders to understand. You'll see this pattern develop again and again. Instead of scrapping the essay I had planned, I decided to publish it as a case study. And don't worry, I've included my thoughts on how you can still profit from the situation.
Treasury bond prices have been stuck in a relatively tight trading range for the past several weeks.
But they're about to make a big move...
Take a look at this chart of the iShares Barclays 20+ Year Treasury Bond Fund (TLT) – which tracks the price of long-term Treasury bonds – plotted with its Bollinger Bands...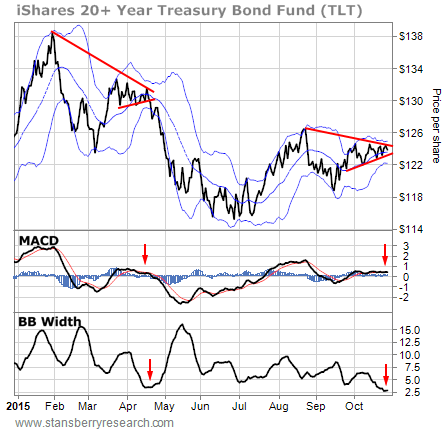 The first thing to notice about this chart is the Bollinger Band width at the bottom. Bollinger Bands measure the most likely trading range for a stock or index. As you can see, the Bollinger Bands have been contracting for the past few weeks. The bands are tighter than they have been all year. So TLT is building up energy for a major move.
We can't know for sure in which direction that move will be. But the chart does give us some clues.
The last time the Bollinger Band width was close to this narrow was back in April. TLT was tracing out a consolidating triangle pattern (the red lines on the chart). This is a series of higher lows and lower highs that gives a stock a chance to build energy for its next trending move. TLT broke the pattern to the downside and crashed 10% in just two weeks. That's a massive move for a Treasury bond fund.
Today, TLT is tracing out the same consolidating triangle pattern. Even the moving average convergence divergence (MACD) momentum indicator shows the same formation as it did back in April. This setup appears to favor a break to the downside for the Treasury bond market.
But, as I said earlier, there's no way to know for sure. All we can say with certainty is that with the Bollinger Bands as tight as they are, there's a big move coming. With the chart approaching the apex of its consolidating triangle pattern, I expect we'll get a break one way or the other within the next week or so.
So, here's how traders can play this setup...
Wait for TLT to break out of the current consolidating triangle pattern one way or the other. If TLT can rally to more than $125, then the breakout is to the upside. Traders can buy TLT, set a stop at $124 – in order to limit their downside risk – and ride the move to an upside target of more than $130.
If, on the other hand, TLT drops to less than $123, then it's breaking down. Traders can short TLT, set an upside stop at $124, and look to profit on a drop to at least $118.
Both of these trades offer good risk-to-reward setups for the next big move in the Treasury bond market.
Best regards and good trading,
Jeff Clark