Over the past month, stocks have enjoyed an incredible rally.
The benchmark S&P 500 Index is up 11.1% since September 28... which is a year's worth of gains in just a month. The shares of big-name companies like Facebook, Starbucks, MasterCard, and Home Depot are trading near all-time highs. And portfolios that were deeply in the red last month are now showing gains.
Where does all this fit into our "big-picture" take on stocks... and what should you do about it? We answer those questions today.
We're checking back in today, though, because the picture has changed...
The title of our October 16 issue was, "These Three Signs Will Tell Us When the Bull Market Is Back." And as the name suggests, we showed you three ways to tell when the bull market had likely resumed.
Here's what we said...
Before we'll trust the uptrend, three things need to happen:
| | |
| --- | --- |
| 1. | The S&P 500 needs to break above its 200-day moving average, |
| 2. | The 200-day moving average itself needs to turn higher, and |
| 3. | The S&P 500 needs to close above the 2,131 level. |

The 200-day moving average is a widely used gauge of the long-term trend. It's calculated by taking the average of an asset's closing prices from the past 200 days. As each day passes, the most recent day's closing price is included in the average... And the oldest day's price (now day 201) gets dropped.
The 2,131 level (or 2,130.82, to be exact) is the all-time high for the S&P 500. It's an important psychological level. And if the S&P 500 breaks above 2,131, investors and traders will know that stocks have overcome concerns about the global economy, corporate profits, and interest rates.
Last week, the S&P 500 leapt over the first two hurdles. It broke above its 200-day moving average... And the 200-day moving average itself turned higher (although you can't quite see a tick higher on the chart). In other words, the downtrend just shifted back to an uptrend.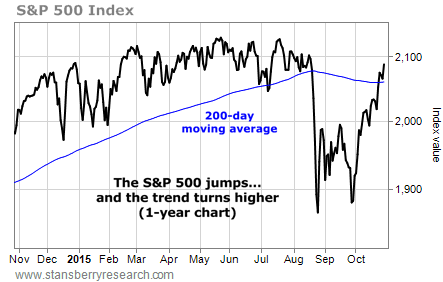 Also, the S&P 500 still needs to climb another 1.9% to reach the 2,131 level.
On a scale of one to 10, we would have likely rated our confidence in the market at a three or four two weeks ago. Today, it's somewhere around a six. We're happy to see stocks advance. And we're a bit more bullish. But the market hasn't yet provided full price confirmation that leads us to say, "We are bulls."
So what should you do with this information?
If you reduced your exposure to stocks on our pre-correction warnings (like the ones on
August 5
or
August 18
), you can
start
to increase that exposure again.
If the 200-day moving average continues higher, and if the S&P 500 breaks above 2,131, we'll be bulls. And we suggest increasing your stock exposure to the market even more.
We're getting close... But we're still cautious. We need to see the market signals turn from yellow to green.
Regards,
Brian Hunt and Ben Morris