In today's essay, an idea you might not have considered...
Regular readers know
we recommend holding plenty of cash today
. As we've explained, that doesn't mean selling all your stocks. It just means selling enough to sleep well at night... and to have enough "dry powder" available to pick up bargains if a crash occurs.
Even if we don't see a crash, we're confident that patient investors with cash will have much better opportunities to buy down the road.
But as Stansberry Research founder Porter Stansberry has explained, we think the
risk of substantial declines in stocks and bonds
is greater than many folks believe. So we also recommend "hedging" your portfolio.
If you're not familiar, hedging just means adding some positions that are meant to act like insurance for the rest of your portfolio.
For most investors (who are generally 100% long stocks and bonds) this means adding a small number of short-sale positions and/or "pairs trades" – where you're long one stock and short another. (You can learn more about the basics of short-selling in the Stansberry Research Education Center
right here
.)
The general idea with these hedges is simple...
If the market falls, these positions are likely to fall further than the broad market and the (hopefully) high-quality stocks you're still holding. These gains will help offset your losses elsewhere.
But if you're wrong and the market continues higher, you'll still have exposure to the upside that you wouldn't have if you were entirely in cash... even if the small number of hedges offsets some of your gains.
One of the best ways to hedge a bearish portfolio from the long side is with high-conviction speculations... calculated bets where the risk-to-reward is heavily tilted in your favor. And we know of no better speculative opportunity today than the one in gold stocks.
Most investors know that gold is far from its 2011 highs. But I don't think folks understand how far gold stocks have fallen.
The benchmark gold-stocks index – the NYSE Arca Gold Bugs Index (HUI) – is down 75% in four years. Meanwhile, the price of gold only fell 30% in four years. That's a big divergence. And it has led to a major extreme in the gold-to-gold-stocks ratio.
This ratio is simple... It's the price of the HUI Index divided by the price of gold. Gold stocks are cheap compared with the price of gold when the ratio is low. And they're expensive relative to gold when the ratio is high.
With gold stocks crashing 75% and gold only falling 30%, this ratio recently hit an all-time low. Take a look...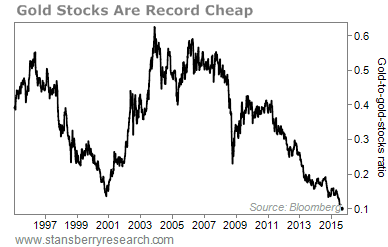 As Steve explained, the two major bottoms in this ratio led to huge returns. You can see those bottoms – in 2000 and 2008 – in the previous chart. And we could be approaching another major bottom, this time from even cheaper prices. More from Steve...
If you'd bought gold stocks at each of those bottoms and held for three years, you would have made 418% and 226%, respectively.
We can't know exactly when we've hit bottom. But this shows how much gold stocks can soar when they get going. And after a 75% decline, these kinds of gains are absolutely possible when the next move higher begins.
Importantly, the next move could be here – today. The easiest way to own gold stocks is through the Market Vectors Gold Miners Fund (GDX). It's up 20%-plus since last month's low.
We can't know for sure if this is the next big move in gold stocks. But they've been crashing for four years, they're now dirt-cheap, and in the last month they've been higher.
Again, this situation isn't news to regular readers. But what you may be interested to hear is that Steve is "putting his money where his mouth is" and betting big on gold stocks with his own money.
If you know anything about Steve, you know he's conservative. He doesn't buy penny stocks, he doesn't day trade, and he hates to lose money. In fact, he has only made two other big bets like this in his entire career. Steve sent us a private e-mail this week explaining why he decided to make another one today...
I've only "gone big" two times personally in my investing career. The first was in 2008, near the bottom of the financial crisis. I borrowed money against my home to invest in stocks. I knew we were near generational lows and I leveraged up to take advantage of it. I ended up doubling my money in roughly a year and closing my home equity loan.
My next "big bet" was on real estate in 2010 and 2011. Once again, after a massive crash the value was obvious. I've spent years buying trophy properties where I live in Florida. I recently purchased 70 acres of intercoastal land. And I believe that property – and the others I've purchased – will be fantastic investments when I sell them.
I really didn't expect to find another opportunity to "go big" again this soon. But that's exactly what I'm doing right now. This week, I put $100,000 into a basket of small gold companies. This market has been obliterated since 2011. But that's turning around now. I believe this $100,000 could turn into $1 million by the time the market peaks.
I'm putting my money where my mouth is. And I'm recommending my readers do the same. This is one of the best opportunities I've seen in my investing career. And I believe it will lead to fantastic gains in the coming years.
​
Steve has put together a special report featuring his three favorite gold stocks for his
True Wealth Systems
subscribers. To view Steve's brand-new video presentation detailing this opportunity – and find out how to take advantage of a special offer to True Wealth Systems –
click here
.
Regards,
Justin Brill