Natural gas is now at its lowest price since 2012.
And many folks are expecting it to stay low this winter.
But they could be in for a surprise...
As regular readers know, commodities prices fell over the past year. Oil is down 54% since its high in 2014. The price of copper has fallen nearly 30% from its high point in 2014. And the natural gas price has declined 60% since its peak in 2014.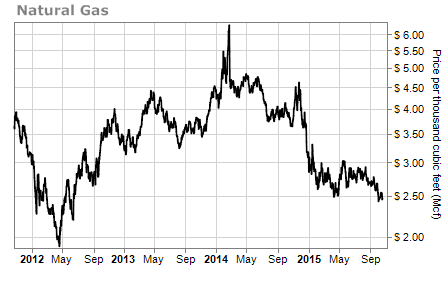 Natural gas is a major fuel source of both heat and electricity. When temperatures drop, natural gas demand increases as consumers and businesses use gas and electricity to stay warm. So natural gas prices tend to be lower during the summer.
The big question for natural gas prices going forward is how cold the winter will be. Colder winters lead to more gas consumption and higher prices. The inverse is also true. Warmer winters lead to less gas consumption and lower prices.
For example, the winter of 2012 was one of the warmest on record. That's why natural gas prices fell sharply.
But the severe winter across much of the U.S. last year pushed demand for natural gas higher than expected as consumers and businesses were forced to increase their gas and electricity use. Consumers used so much natural gas that the volume left in storage was at its lowest amount in a decade. This drove prices up above $6 per thousand cubic feet (Mcf).
So what's going to happen this year?
The National Oceanic and Atmospheric Administration (NOAA) just released its winter weather outlook for 2015/2016. According to NOAA, we are in an unusual situation called an El Niño. An El Niño event occurs when the equatorial Pacific Ocean becomes unusually warm. Right now, we have the most extreme El Niño on record.
And warmer Pacific waters impact weather here at home.
For example, in the past, it has reduced Atlantic hurricanes, both in strength and in number. This year was no exception. For the first time in 100 years of record keeping, no hurricanes from the eastern Atlantic Ocean maintained their strength to our side of the ocean. A handful of storms became hurricanes once they crossed to the Leeward Islands, which separate the Caribbean Sea from the Atlantic. But in all, it was a quiet year in the Atlantic.
The last two strong El Niños in 1997/1998 and 1982/1983 led to mild winters in the Northeastern U.S. – the heart of natural gas consumption. NOAA is predicting the same thing this year – a slightly cooler winter in the southern states and a slightly warmer winter in the northern states.
A warm winter would mean less natural gas consumption... so natural gas prices would stay low. This is what many people expect.
However, the meteorologists at WeatherBELL Analytics have a different opinion. WeatherBELL is a premium weather service, rather than a government agency – so I tend to give their models more credence.
Because WeatherBELL is for profit, it gets paid to be correct by companies that reap financial gains from weather forecasts – like oil companies, energy traders, and commodities traders.
WeatherBELL's two lead forecasters are icons in the industry. Joe Bastardi was the head long-range forecaster at Accuweather for 32 years. Joseph D'Aleo was a co-founder of the Weather Channel. He even wrote a book on El Niño forecasting.
If I'm betting money on a forecast, I'm going with these guys over NOAA every time.
And according to Bastardi:
Winter is going to be a challenge. I don't believe in broad-brushing El Niños to a standard one size fits all composite. Our blend of analogs, even with the warm winters factored in, gives a major cold and snowy winter over the South and into the East.

He also predicts that winter will get a lot worse after December and run late through March.
In short, this means consumers and businesses will likely be forced to increase and extend their gas and electricity use this year... which will push natural gas prices higher.
That's good news for natural gas producers like Range Resources (RRC) and Cabot Oil and Gas (COG). While I don't recommend investing in these companies for the long term, you can use them for a short-term trade. Buy now, and sell when we hit the peak of winter in February or March.
Good investing,
Matt Badiali