It's a top priority for governments, businesses, and many individuals...
And it's one of the fastest-growing industries in the world.
Plus, in the coming years, there will be dozens, even hundreds, of opportunities to profit.
We're talking about cybersecurity...
One of our top goals is to keep you informed about the sectors of the market that are likely to deliver huge profits to investors. Whether it's housing, precious metals, insurance, "big cheap tech," or cybersecurity, we want you to know what's going on in the industry... and the best ways to invest.
This gives you the best shot at making big gains, when it comes time to buy.
Today, we'll show you why we're keeping a close eye on the cybersecurity industry... and why you should, too.
Let's start with a few examples of recent security breaches...
Early last year, hackers stole information from more than 70 million customers who used their credit cards at retail giant Target. It was one of the largest data breaches in history... and it cost the company $162 million. Banks were on the hook for another $200 million.
The next high-profile retailer to get hit was Home Depot. As many as 56 million credit card numbers were stolen... and it will cost the company an estimated $33 million. JPMorgan Chase, eBay, AOL, British Airways, Zappos, Apple, and countless other companies have all been victims, too.
According to British insurance company Lloyd's, cyber-attacks cost businesses around $400 billion a year. They spend about $2.5 billion on insurance policies to protect against these costs.
Government agencies haven't escaped harm...
Hackers recently stole the social security numbers of at least 4 million government employees... along with their job assignments and performance ratings. The U.S. Office of Personnel Management (which held the data) was targeted again shortly afterwards... and sensitive information on more than 21 million people was stolen. The IRS and the European Central Bank have also been hacked.
These problems aren't going away. But there are lots of companies working to solve them... And these companies are growing.
Take Palo Alto Networks (PANW), for example. The company provides security platforms to businesses and governments. And with a $15 billion market value, it's one of the world's largest cyber-security firms.
In each of the last two years, Palo Alto's sales grew by more than 50%. In each of the two prior years, sales grew by more than 110%. You can see this enormous sales growth in the chart below.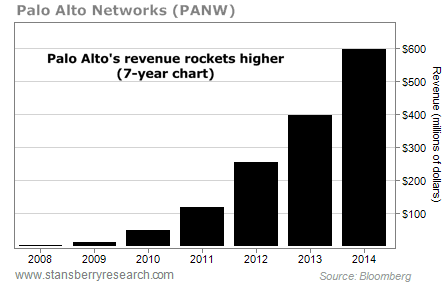 Fortinet Inc. (FTNT) is a $7 billion cybersecurity firm which also caters to governments and businesses. Its sales have grown at an average of 26% a year for the past seven years.
Proofpoint Inc. (PFPT) is a $2 billion firm which provides cybersecurity solutions to businesses... And its sales have grown at an average rate of 37% a year for the past eight years.
Market research firm Gartner estimates global spending on information security will reach $77 billion this year... and will top $100 billion by 2018. Companies like Palo Alto, Fortinet, and Proofpoint will see huge increases in sales and profits.
A great way for lots of folks to buy into a big trend like cybersecurity (again, when the time is right) is with an exchange-traded fund, like the PureFunds ISE Cyber Security Fund (HACK) and the First Trust NASDAQ CEA Cybersecurity Fund (CIBR).
These funds were created within the last year. They each hold shares of more than 30 companies involved in cybersecurity... And each charges less than 1% in annual fees. They're a good way to reduce the risk associated with holding individual companies... And they're a good way to keep an eye on the sector.
As you can see in the chart below, HACK – which has been around longer than CIBR – is down 20% from its highs.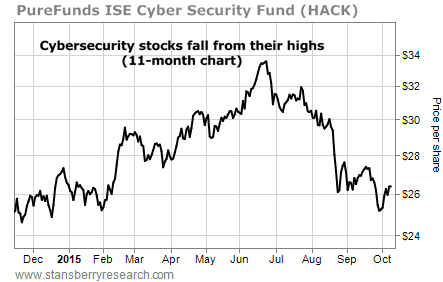 Even after the fall, though, these stocks aren't cheap. Some of the best names in the fund trade for more than 10 times sales. The fund has an average EV/EBITDA ratio (a useful alternative to the common price-to-earnings ratio) of 24. That's about a 100% premium to the stock market as a whole.
These companies deserve to have some valuation premium over other, slower-growing stocks... But today, they're not in buy range. And as we've explained,
we have a cautious stance in general toward new stock purchases
. So we don't want to take a chance on volatile, expensive stocks... even if the sector is growing rapidly.
For now, add cybersecurity stocks to your watch list. The time to buy might not be far off.
Regards,
Brian Hunt and Ben Morris