What a difference a week makes.
Early last week, stocks were selling off. Almost all the financial-television talking heads were bearish. And traders were piling into short bets.
But the S&P 500 was oversold, stretching more than 40 points below its nine-day exponential moving average (EMA) – a 30-point spread is considered extreme.
The index closed below its lower Bollinger Band, a move that triggered solid bounces higher the last four times it occurred. So despite the prevailing bearish winds,
the stock market was due for a bounce
.
And what a terrific bounce it has been.
The S&P 500 rallied for five straight days, gaining more than 100 points – or a little more than 5%. On Monday, the index closed 46 points above its nine-day EMA. Almost all the television talking heads are now giddy in their bullishness. Just about everyone seems to think that last week's bottom was the retest of the lows and now we can get on with the year-end rally.
Not so fast...
Take a look at this chart of the S&P 500 from 2011...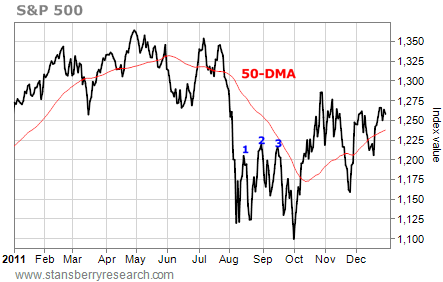 The market fell hard back in August 2011. It then consolidated in a wide trading range for about two months before reaching its final bottom in October. During the consolidation period, there were three strong bounces. The third bounce nearly tagged the 50-day moving average (DMA). That line held as resistance, and the S&P 500 dropped down hard, taking out its previous lows and setting the stage for a year-end rally.
Now, here's how the S&P 500 looks today...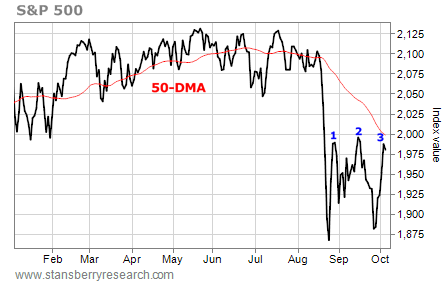 This chart is nearly identical to 2011's.
Following the steep decline in August, the S&P 500 has been consolidating in a wide trading range. We've had three strong bounces. And the current bounce has pushed the index up to just below its 50-DMA.
I expect this line to hold as resistance and the stock market will come back down one more time, to either retest the late-August lows, or perhaps make a slightly lower low. Then we can look for a year-end rally.
Right now, though, traders should brace for another steep decline – starting soon.
Best regards and good trading,
Jeff Clark