If you missed the Chinese stock market rally last month, you now have another chance to profit...
Around four weeks ago,
I told you why I was buying China
. The Shanghai Stock Exchange Composite Index (the "SSEC") had fallen double digits and was sitting on a significant support line.
There was also "positive divergence" on the moving average convergence divergence (MACD) momentum indicator. In other words, as the index was falling to lower lows, the MACD indicator was making higher lows. So the SSEC looked poised to bounce.
Shortly after we published that essay, China's stock market did bounce. The SSEC rallied from 2,950 to 3,250 – a gain of 10% – in just a few days. But the rally stopped short of my 3,900 upside target. The index turned back down, and China's stock market is once again testing support.
Traders now have a second chance to buy China.
Take a look at this updated chart of the SSEC...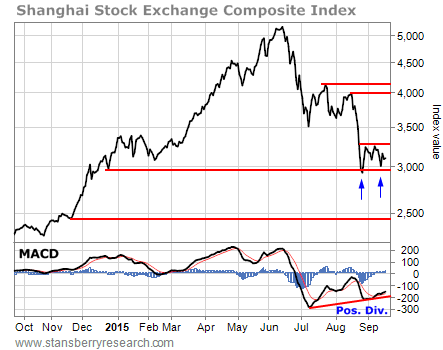 The SSEC is bouncing back and forth in a relatively tight trading range between support at about 2,950 and resistance at 3,250. This action is giving the index time to store up energy for its next move.
And that move is going to be a big one.
If the SSEC can climb above the 3,250 level, then it should be a straight shot higher toward the next resistance line at about 4,000. On the other hand, if the index breaks down from here and drops below 2,950, then it's likely headed for the next support level below 2,500.
Given the positive divergence on the MACD momentum indicator, the odds favor a breakout to the upside.
Traders can buy China right here near the 3,000 level and put a tight stop at just below 2,900. That will limit any losses and get you out of the trade if the index breaks down. So you're risking 100 points on this index.
On the upside... buying the SSEC here gets you into the trade at support and offers the potential of a 900-point gain on the index if it breaks out to the upside.
That's an outstanding risk/reward setup. And it's a great chance to buy into China if you missed the opportunity last month.
Best regards and good trading,
Jeff Clark