The U.S. dollar is teetering on the edge of a cliff. It just needs a little nudge to tip it over the side.
And today's Federal Open Market Committee (FOMC) announcement on interest rates may just be the catalyst that sends the dollar lower...
Take a look at this chart of the U.S. Dollar Index plotted alongside its 50-day moving average (DMA) and nine-day exponential moving average (EMA)...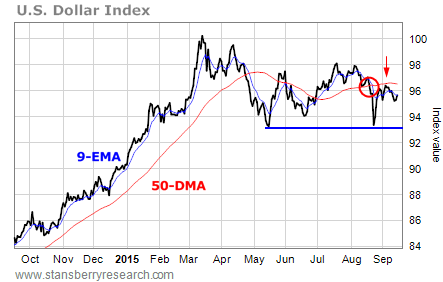 Last month, the dollar index broke below its 50-DMA. The nine-day EMA then crossed below the 50-DMA a few days later. This "bearish cross" sparked a quick, nearly 4% selloff in the buck. And the index tested the support line from the May low.
Earlier this month, the dollar index rallied back up to kiss its 50-DMA. But the chart remains bearish.
Since peaking in March, the dollar has made a series of lower highs. Now, it's trading below its 50-DMA – which should provide resistance on any rally attempts. And the moving average lines are in a bearish configuration with the nine-day EMA trading below the 50-DMA.
The index has support at around the 93 level. Below 93, though, it's wide open. There's no real support until about 88 – which lines up with last December's low point.
So with resistance just overhead and support far below, the dollar just needs a catalyst to push it lower.
That's what we may get with today's FOMC announcement.
You see, this month's strength in the buck is likely the result of folks buying the dollar in anticipation of the Fed announcing it will raise interest rates today. Rising rates are positive for a currency since foreign money is attracted to the higher yield. That's why going long the dollar/shorting the euro is
the most popular currency trade on the planet right now
.
But what happens if the Fed doesn't raise interest rates today? Or if the Fed raises rates but then says something about not raising rates again for several months?
In both cases, the dollar is likely to sell off. Any potential upside move in the dollar as a result of rising interest rates today is already baked into the price. The only way I see the dollar rallying more from here is if the Fed raises rates today and then says it'll continue to raise rates aggressively over the coming months.
That's unlikely to happen.
Traders should be looking to short the dollar here. Today's FOMC announcement could kick off the next move lower.
Best regards and good trading,
Jeff Clark