On August 17, the benchmark S&P 500 sat at 2,102. Over the next six trading sessions, it lost 11.2% of its value. It was the most severe decline in more than four years, and it inflicted enormous trauma on the psychology of many investors.
In the report that follows, we'll provide a unique point of view on the current state of the market... one that you won't hear in the mainstream media.
Professional investors use many gauges to monitor stock trends. Two of the most important gauges are the long-term trend line and the 200-day moving average. The recent selloff caused the S&P 500 to break the upward momentum in both of them.
Here is the violation of the market's long-term trend line: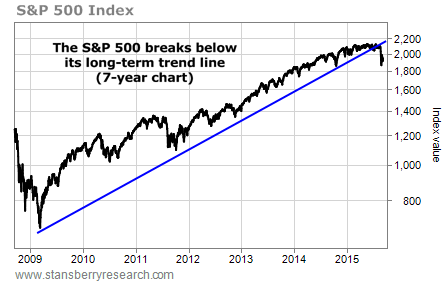 And here is the violation of the 200-day moving average: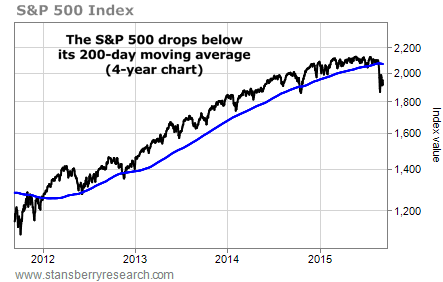 The sudden breaking of these key trend measures was the equivalent of the S&P 500 getting smacked in the face with a two-by-four.
Given the trend-altering selloff, we've formed a unique stance on the market and its upside potential. Our stance might sound crazy to you at first, but we're confident it will make sense after you review our thinking. Here it is...
We believe the stock market will only offer significant potential gains if the benchmark S&P 500 breaks 2,131 to the upside. Until this number is broken to the upside, the broad market is in "no man's land" and should be approached with extreme caution.
For context, here is a five-year chart of the S&P 500 that shows where this level is: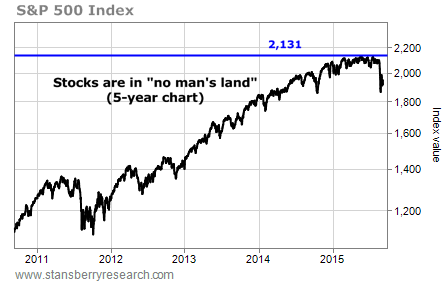 You can immediately understand the significance of the stock market breaking above 2,131...
It would take the market higher than the previous high, which was the May 21 closing high of 2,130.82. It would mean the current selloff would be followed by a surge of buying interest... and the next leg of the bull market would be starting. It would mean the global economy is strengthening, not weakening. It would mean corporate profits are strong enough to shrug off today's big worries, which include a recession in China, excessive corporate borrowing, and excessive government borrowing.
These worries dominate the financial news. They have been on the minds of investors all year. The recent selloff has made the worries even worse and caused a lot of psychological damage. If the stock market were to break 2,131, it would go a long way toward repairing that damage. It would repair faith in the economy and the stock market.
Since the market bottom of 2009, stocks have climbed every year for six consecutive years. With the benchmark S&P 500 Index currently sporting a price-to-earnings (P/E) ratio close to 20, U.S. stocks are now near the high end of their historical valuation range.
Stock market bulls will point out that stocks tend to trade for higher valuations during periods of low interest rates, but even the most dedicated bulls will at least agree that stocks definitely aren't cheap.
Given the old age of the bull market, the rich valuations, and the major trend damage, we believe that the stock market must "prove" its strength by closing at more than its 2015 high of 2,131. Until the market does this, it should be approached with extreme caution. You could look at it like a court case in which the burden of proof has been flip-flopped. The stock market is guilty until proven innocent.
To be clear, I'm not saying the market is going to crash this month. I'm not saying the market is going to crash next month. I'm not saying the market is going to crash at all.
I'm simply saying that serious damage has been done to the market's primary trend... and that it will take a close of more than 2,131 for the market to "prove" that it's in a bull market again.
The market could trade sideways for a year. It could decline 20% in the next year. I can't know what it will do... and neither can anyone else. But I can urge our readers to be extremely cautious toward the market.
There's one more number I'd like you to keep in mind...
It's 1,170.
If the S&P 500 were to break this number to the upside, I'd also believe the stock market would offer significant potential gains. Here is that number on the chart: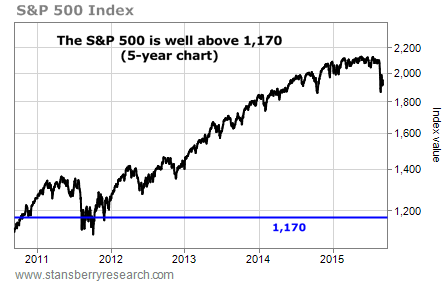 You might be thinking to yourself, "But 1,170 is a LOT lower than where the market is right now." How would the market break 1,170 to the upside?
It would first have to be preceded by a major bear market or sudden crash that breaks 1,170 to the downside. The break above 1,170 would come as a result of the market staging a huge rebound rally... which could also kick off a new bull market.
For example, during the 2007-2009 credit crisis, the S&P 500 suffered a 57% fall. It was the worst crash in more than 60 years. After reaching a low of 676 in March 2009, the S&P 500 rebounded 80% in just 13 months... and 215% over the next six years. This was an extraordinary time to make money in stocks. It was the kind of rebound you often see when stocks get extremely depressed.
I'm adding in 1,170 as a number to watch because a decline of this magnitude would wipe out an enormous amount of investor optimism... much like the last crash did. It would also drive global central banks to enact extraordinary "stimulus" programs that could goose stock markets by 100% or more... much like the 2009 stimulus programs did. I believe a decline of that magnitude would present a major opportunity.
It's important to point out that there's nothing special about the number 1,170. It's not the result of a sophisticated calculation or chart pattern. It's simply the market level if the S&P 500 were to fall 50% from its 2015 high and then rally 10%. I could use another number... The idea is that if the market doesn't break out to a new high, I won't have strong conviction that stocks will move higher until we see a major decline.
If that happens, I'd like to see the market rally a bit – at least 10% – before becoming bullish. That would ensure we're not trying to catch a falling knife.
One of the biggest counterarguments to this "two pronged" position on the market goes like this: If the market falls just 20% from its 2015 high to 1,702, and then rallies to 2,131, you'll miss out on that big rally.
There's no doubt that by waiting until 2,131 to get bullish, you're being conservative... and you'll miss out by not buying in after "just" a 20% decline.
But keep in mind... the market has advanced for six consecutive years. It's richly priced. For these reasons, a rally off the 1,702 level is just as likely to fizzle out and then turn lower as it is to soar past 2,131. By waiting for the market to break 2,131, you'll avoid the frustration of trying to constantly pick bottoms in what could be a long-term bear market.
With this situation in mind, what should we do?
First and foremost, make sure you're using
intelligent asset allocation
. This means keeping a diversified mix of cash, bonds, real estate, gold, stocks, and speculations. Using intelligent asset allocation will prevent you from suffering a catastrophic loss if one asset experiences a big drop.
Second, realize that if you own high-quality businesses you purchased years ago for good prices,
you don't need to do anything
. You can sit tight, knowing these high-quality businesses will hold up well during any environment we'll see in the coming years (just as they've done in the past). And if you have open
"trading-for-income
"
positions on these businesses, hold them with a stop loss.
Third, if you're considering new stock purchases, please make sure they are in very high-quality businesses trading for good prices. This isn't the time to pay 50 times earnings for a tech company with a big dream and lots of competitors. Instead of buying riskier businesses, consider holding off on new purchases. If you have cash that has been building up in your account, sit on it.
To state again, I'm not saying the market is going to crash. I'm only saying I'll believe there is a lot of potential upside if the market breaks to more than 2,131. Until that happens, we're dealing with a badly struggling market that has broken its trend structure.
I don't like to be the bearer of bad news. I'd rather see a bull market than a bear market. It's the difference between 70 degrees and sunny or 50 degrees and rainy. You can still have a good time when it's raining, but it's easier to have a good time when it's sunny. During a bull market, people smile a little brighter. The food tastes a little better. The beer is a little colder. And I'll be happy to believe we're in a bull market when the S&P 500 climbs to more than 2,131. Until then, I'm skeptical.
I recommend holding off on major new stock purchases... using profit-taking trailing stops... and letting cash build up in your accounts. Experienced traders can look for short-term trading opportunities that last for a few weeks to a few months. They can even consider shorting stocks, which allows you to profit when stocks fall.
The market has enjoyed one of the longest bull markets in history. It has climbed for six consecutive years. Stocks are now near the high end of their historical valuation range. The recent selloff has changed the nature of the market's trend, and inflicted enormous damage to investor sentiment.
Unless a surge of buying interest restores health to the market and pushes it past its recent high of 2,131, I believe the potential downside is greater than the potential upside. Until this number is hit, extreme caution toward the market is our best policy... while staying on the lookout for big, post-crash buying opportunities.
Regards,
Brian Hunt