The Weekend Edition is pulled from the daily Stansberry Digest. The Digest comes free with a subscription to any of our premium products.
Longtime readers know we keep a close eye on the resource sector.
But if you're new to Stansberry Research, you might wonder why... or you might be unsure about how to safely include commodities in your portfolio.
At the same time, governments all over the world are devaluing their currencies to boost their economies and gain a temporary advantage over each other. While a period of deflation is possible in the near term, we believe these "currency wars" could eventually trigger massive inflation, which could push commodities even higher.
But before you put even one dollar into the resource market, there are a few things you need to know.
First, it's important to keep in mind that the long-term trend in commodity prices is down. New technologies have made it easier, cheaper, and more efficient to find and produce commodities. And that trend is only accelerating.
The recent U.S. shale-oil boom – and the resulting crash in oil prices – is a real-time example of this trend in action.
Ultimately, this is great news. Cheaper commodities improve everyone's standard of living. But it means you must view resource investments differently than other investments. Brian Hunt and Ben Morris explained this idea in
last month's Growth Stock Wire
...
Owning a commodity is much different from owning a high-quality business. A commodity like corn or silver doesn't produce cash flow like a high-quality business or a rental property. It won't pay dividends. A commodity just "sits there."
For these reasons, it's not useful to view commodities as long-term investments. It's much more useful to view them as trading vehicles. Or, as we often say, it's best to "rent... not buy."
The supply/demand of a commodity like silver or corn can cause commodities to double or triple in value in a short time. But after making these gains, the trader should start looking around and noting where the exits are. A commodity that doubles or triples in price in a short time can fall 50% in the same amount of time.
Second, because most commodities are priced in U.S. dollars, it can create some confusion for new resource investors. Here's more from Brian and Ben...
A big move in the greenback can affect all commodities. A move higher for the dollar means your dollar can buy commodities for less. In other words, commodity prices go down. This price action leads to most people thinking about commodities as a group. They'll often say things like, "Commodities went down today," or "Commodities are a great buy right here."
But when it comes to placing actual commodity trades, those generalizations aren't useful. Individual commodities move according to their own supply/demand dynamics. Cotton is a different market from gold. Copper is a different market from corn. Sugar is a different market from cattle. They should be viewed and traded accordingly...
When it comes to putting money to work, the broad generalization of "it's time to buy commodities" is no more useful than saying, "The weather in America is going to be nice today." Sounds good, but we need more information.
If you'd like to learn more about investing in the resource sector, pick up a copy of our book,
Secrets of the Natural Resource Market
. This comprehensive guide is designed to give readers a world-class education on natural resources, explain what you really need to know to make big, safe returns in commodities, and teach you how to profitably trade the sector for the rest of your life.
Click here
to claim your copy for just $19 plus shipping.
So where do we think the biggest opportunities are today?
Perhaps the best opportunity is in gold and gold stocks. Several Stansberry Research analysts believe
we're close to a significant bottom today
. As we explained, this is rare... and something we always pay attention to.
This week, our colleague Matt Badiali – Stansberry's resident commodities expert – explained why he's getting bullish, too. From the September issue of his
Stansberry Resource
Report
...
When the U.S. stock market opened on August 24, the Dow Jones Industrial Average plunged 1,089 points. Stocks regained some of that by the end of that day, registering a 588-point loss. That's the largest drop in more than four years.
Investors are beginning to worry this could be the beginning of a major stock market collapse. You're probably wondering how I can pick this moment to come out strongly bullish on an asset as notoriously volatile as gold stocks.
It's hard to see through the general market madness... but some of the few bright spots we see right now are gold and gold stocks.
Gold is up nearly 5% since the August issue. And gold stocks – as measured by the Market Vectors Gold Miners Fund (GDX) – are up more than 4%. And while most of the market was falling... gold and gold stocks moved higher. This is an important development. It's a sign that we're reaching the end of the sector's multiyear downtrend.

In addition, Matt says an important relationship between gold and gold stocks has changed, and it's another good sign that gold stocks could be ready to "turn around" and head higher, too...
For years, there was a strong correlation between the gold price and the Venture Index. Whenever the gold price rose, investors got hopeful about the junior mining sector... and bought junior mining stocks. But whenever the gold price fell... investors lost faith in the sector. And junior mining stocks plummeted as everyone sold them. You can see this in the chart below: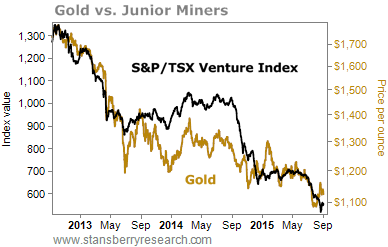 Since 2012, the gold price and the Venture Index have moved together more than 60% of the time. However, lately the two have been moving in opposite directions. Since late July, gold prices have rallied around 5%... but the Venture Index has continued falling around 10%.
This is the most dramatic "divergence" between the gold price and junior miners in years. And it shows investors have given up on the junior mining sector. But that's great news for us... Once everyone leaves junior miners for dead, things will get less bad... and these stocks will boom.
But that's not the only reason Matt is bullish on gold and gold stocks today...
Incredibly, he says it could be news from China that sends gold much higher.
Given the recent turmoil, you might find that surprising. But what if China could halt its stock market decline... boost its economy... virtually guarantee its inclusion in the International Monetary Fund's basket of global reserve currencies... and destabilize the U.S... with one simple announcement?
Matt says it's not only possible, but that it could happen in the next 12 months. And if it does, the price of gold could jump 50% or more overnight... and gold stocks could soar.
Matt put together a presentation explaining all the details.
Click here
to see for yourself.
Regards,
Justin Brill