The Weekend Edition is pulled from the daily
Stansberry Digest
. The
Digest
comes free with a subscription to any of our premium products.
Longtime readers know our goal here at Stansberry Research is to tell you what we would want to know if our roles were reversed.
If the flood of subscriber e-mails in our mailbag is any indication, many folks are still worried about the market... So today, we'll review our stance and hope to ease those concerns...
In short, this is not a time to panic
.
Despite the headlines of the past several days, a 10%-15% correction is a normal – and necessary – occurrence.
According to financial news website MarketWatch, the market has experienced a correction of 10% or more 31 times since World War II. That works out to approximately once every two years.
The latest correction is the first in 47 months – nearly four years – which is probably why it feels much worse than it should. Folks have forgotten what it's like to experience a broad pullback in the market. But it's important to keep the recent action in perspective...
As fund manager and author Ben Carlson pointed out in his blog this week, the recent volatility isn't anything new.
For example, the last 10%-plus pullback in U.S. stocks started in the summer of 2011. You might not remember, but at the time, the market was worried about the so-called "debt ceiling" crisis, and stocks suffered a decline similar to the one we've seen today...
The S&P 500 plunged more than 15% from July 2011 to early August 2011. And as Carlson noted, the market then had four consecutive days with returns of -6.7%, +5.2%, -4.8%, and +4.6%... much more volatile than the moves we've seen so far this time. But those big moves didn't mark the final bottom.
Stocks consolidated for another month before reaching a slightly lower low in October 2011. In total, the S&P 500 fell nearly 20%.
At the time, we were hearing many of the same fears we're hearing today. Many folks were predicting a new bear market in stocks, and even a return to the crisis conditions of 2008 and 2009.
But as you can see in the chart below, those folks were wrong. The bull market continued. And even accounting for the latest correction, the S&P 500 is up more than 65% since then...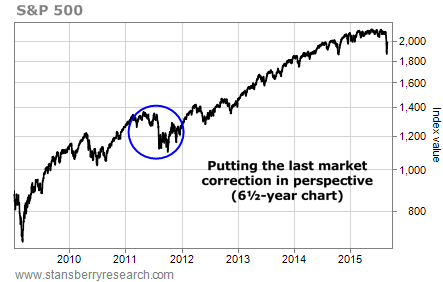 Of course, that's just the latest example. But it happens every time the market corrects. Some folks will always predict the worst. It's just human nature.
But the important thing to remember is that no one can consistently predict where the market is headed next. And basing your investment decisions on fear is guaranteed to lose you money.
This is why we repeat ourselves again and again about using proper
asset allocation
,
position sizing
, and
trailing stops
– what we call a "
catastrophe-prevention plan
" – instead.
If this is just another correction in an ongoing bull market, you'll still have some exposure to the upside.
On the other hand, if this is the start of a bigger decline, you'll protect your capital and have plenty of "dry powder" to buy bargains at the bottom.
Look, we get it... These ideas aren't exciting. Many of you are probably tired of reading about them.
It's easy to ignore these ideas when stocks are moving higher. It's not until times like these when their importance becomes clear.
So we'll continue to mention them... and we hope we convinced many of you to use them prior to the latest correction.
But we know there are likely some folks who didn't... or who are new to Stansberry Research and these ideas...
If you're holding large losses today, it's likely due to a few reasons...
You may have too much money in stocks (poor asset allocation), too much money in individual positions (poor position sizing), and/or you didn't have a defined exit strategy (you didn't use – or didn't follow – trailing stops).
If you find yourself in this position, the first thing you must do is decide on an exit strategy immediately.
What you decide will depend on your circumstances. But you need to know when or why you'll sell each position you own.
If you have too much money in stocks or too much money in individual positions, this will likely include "lightening up" or selling some immediately.
If you didn't use trailing stops – or if you ignored the ones you set – you need to set them now. If you can't stand any more losses, that may mean selling today.
Unfortunately, there's no painless solution to large losses. But many new investors have made similar mistakes. The important thing is that you don't allow a big loss to turn into a catastrophic loss that wipes out your portfolio. And then make sure you learn from the experience.
As Doc Eifrig's senior analyst, Matt Weinschenk, reminded us in a note this week, the only way to prevent these kinds of losses again is to prepare in advance...
You have no control over the market. You cannot will your stocks back up or "trade your way" to even. This is the last piece of evidence you need to see that investing is about preparation, not reaction.
As of this morning, the market appears to be powering higher. That's in your favor. It's our opinion that the market will rally and we'll be back in the black in no time. But you can take an honest appraisal of your holdings and decide what's truly a quality investment, and what's junk. Get rid of the junk, hold the quality, and wait for them to come back. Take a look at stellar stocks you may have missed out on. If you can get a good deal on them today, those cheap stocks may help offset some losses.
Your real move here, though, is to prepare for next time. The market will have corrections like this again. It will have much worse ones. You need to understand position sizing, asset allocation, and trailing stops, and you need to prepare yourself mentally to trust in a proper plan and ride out market turmoils like these.
When it comes to the financial news telling you to worry and threatening that an even bigger selloff is near, Doc says to "take a breath." From his recent update to his
Income Intelligence
subscribers...
We know that the financial news is telling you to worry and threatening that an even bigger selloff is near. Don't listen. These days, a good source of financial information will act more like a therapist than an analyst.
We signed up to be investors. We knew there'd be weeks like this. But this really isn't anything. If five years ago, we were to tell you that you'd have to sit through a week like this to collect all the gains between then and now, would you have made that trade? I think so...
There's no financial crisis in the making. There's no recession in the making. We're many steps away from all of that. While no one can know just how the market will fare in the short term, we do know that staying invested over the long term and collecting consistent income has always paid off in the past.

Earlier this week, Doc hosted a special "emergency briefing" with more details on how to handle the recent market selloff. He also revealed the secret behind his highly successful Income Intelligence newsletter... and explained how you could make an extra $135,878 in your retirement. If you missed it, don't worry... It's not too late to take advantage of Doc's research and best ideas.
Until midnight tomorrow, you can get a FREE year of Doc's
Income Intelligence
. Learn more about this opportunity
right here
.
Regards,
Justin Brill