China's stock market has been crushed...
The Shanghai Stock Exchange Composite Index (the "SSEC") is down 40% since it peaked back in June.
China's government has done everything possible to keep prices propped up. It has lowered interest rates, devalued its currency, expanded credit, purchased stocks outright, and even made it a crime for some investors to sell stocks.
Yet, China's stock market has kept falling.
But that may be about to change...
Take a look at this chart of the SSEC...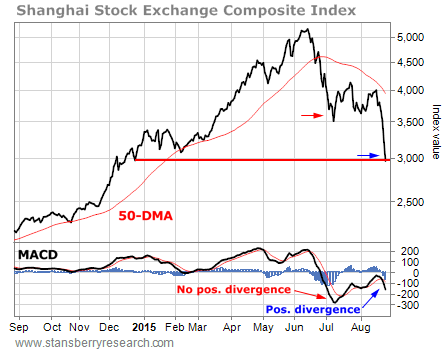 Here's what I wrote...
The moving average convergence divergence (MACD) momentum indicator showed no positive divergence as the SSEC hit its low last week. In other words, as the index was falling, the MACD indicator was falling as well. This means the downtrend in Chinese stocks is intact and likely to continue.
What China bulls need to see now is an oversold bounce that rallies the MACD indicator back toward its zero line. Then, if the market declines and makes a lower low while the MACD indicator forms a higher low, we'll have the "positive divergence" necessary to form a potential reversal pattern on the chart.

That's exactly what happened.
The SSEC has lost around another 14% since July. But while the SSEC has dropped to a lower low, the MACD indicator has made a higher low. This positive divergence is a strong sign that the momentum behind the downtrend is fading. The SSEC may be ready to reverse higher.
With the SSEC sitting on support near 2,950, this is a low-risk area at which to bet on a rebound in Chinese stocks.
If the index loses support and drops below 2,900, then traders can stop out of the trade for a small loss. On the other hand, if the SSEC can mount a rally from here, then the logical upside target is the 50-day moving average (DMA) just above 3,900.
That would be a 32% gain from Tuesday's closing price, compared with a downside risk of about 2%.
No matter what you think of China, traders have to like the odds of this setup.
Best regards and good trading,
Jeff Clark