The S&P 500 Index dropped as low as 1,970 on Friday. And yesterday, the index opened at 1,900...
Although we're still down only about 10% from the highs reached last month, it feels worse than that. Investors haven't suffered through a correction of more than 10% since November 2011. And I suspect most folks have forgotten what it feels like when their stock market portfolios drop in value.
But as I'll explain below, this isn't a time to panic. It looks like traders will soon get some relief from the pain...
As you can see below, the recent breakdown in the S&P 500 exceeded our target price of 2,000.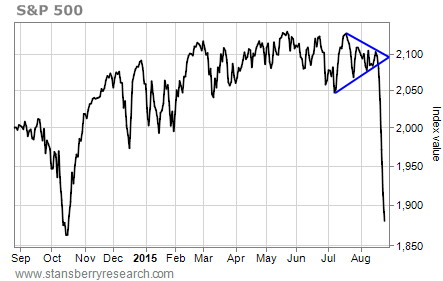 This action has pushed most technical indicators into "extreme oversold" territory.
One way to gauge this is by looking at the McClellan Oscillators. These measure overbought and oversold conditions in the stock market. Readings of more than 60 indicate severe overbought conditions, and often precede large declines in the markets. Readings below -60 display extreme oversold conditions, and usually lead to strong bounces in stock prices.
These are the sorts of readings we see at the end of short-term decline phases. And they often mark the beginnings of a stock market bounce.
Let's start by taking a look at the Nasdaq McClellan Oscillator (the "NAMO")...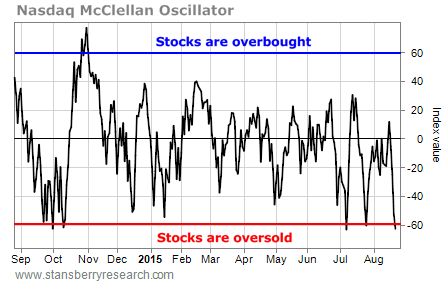 On Friday, the NAMO closed at -63.
Now take a look at the NYSE McClellan Oscillator (the "NYMO")...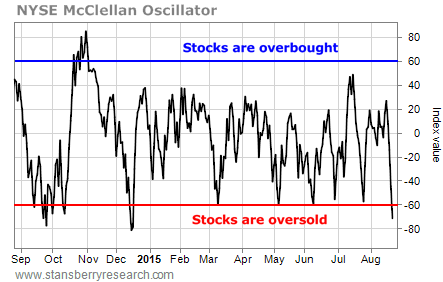 The NYMO closed Friday at -71.
These are among the most oversold readings we've seen over the past year.
Here's how the S&P 500 has performed after previous oversold readings in the past year...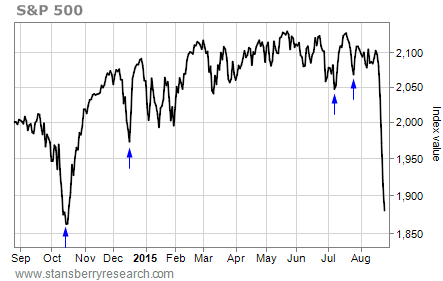 In every case, readings this extreme in the McClellan Oscillators led to solid bounces in the broad stock market. The S&P 500 gained more than 10% in one month when it bounced off of oversold conditions last October.
The most recent bounce from late July, though, was a much more modest 2% gain in about one week.
Given the severity of the decline we've seen over the past week, and the extreme oversold conditions of technical indicators like the NYMO and NAMO, I suspect the coming bounce will be more on par with what we saw last October.
Best regards and good trading,
Jeff Clark