The market's next move is going to be a big one...
However, I wasn't ready to make a trade... The chart of the S&P 500 was setting up for a big move, but there was no clear direction. Most of the technical indicators were in neutral territory. And there wasn't an edge to either side – bullish or bearish. Rather than gamble on a 50/50 bet, I chose to take a seat on the sidelines and wait for a better setup.
But now, after falling for several days and then rallying strongly yesterday, the chart of the S&P 500 has a pattern that could generate a solid trade...
The S&P 500 is still trading at about 2,100 – right where it was trading last Tuesday. And all of the short-term moving average lines are still coiled together, indicating we're on the verge of a big move one way or the other.
Take a look...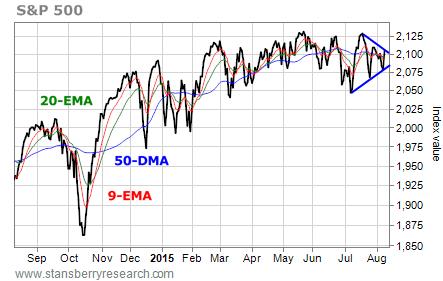 But now, the chart shows a consolidating-triangle pattern with support at about 2,075 and resistance near 2,105. The S&P 500 is approaching the apex of the triangle. So it will likely break out of the pattern, one way or the other, within the next few days.
And the next move is going to be a big one.
The height of the triangle, from top to bottom, is about 75 points. This is the projected move for the index once it breaks out of the pattern. For example, if the S&P 500 closes at more than 2,105 and breaks out to the upside, we could see a move up to 2,180. A breakdown at less than 2,075, on the other hand, would give us a downside target of 2,000.
Either of those moves would be on par with the typical 4% move we've seen during August in each of the past few years. And it's a move worth trading.
But remember, good traders are willing to wait patiently for a clear setup in which the reward far outweighs the risk.
So the best thing to do now is to keep an eye on this chart and wait for the index to break out of the pattern.
That's when we'll have the setup for a good trade.
Best regards and good trading,
Jeff Clark