The Weekend Edition is pulled from the daily Stansberry Digest. The Digest comes free with a subscription to any of our premium products.
When several of our analysts at Stansberry Research agree on an idea... you should pay close attention.
And that's exactly what's happening today in the resource sector... in gold stocks, in particular...
Porter believes we're approaching a "reversion to the mean" in asset prices. He expects a "substantial" correction in U.S. stocks and a "dramatic" reversal in gold. As he wrote in the July 24
Digest
...
I believe that some combination of rising interest rates, rising defaults in the corporate bond market, and global currency/trade wars will likely cause the U.S. stock market to decline substantially. No, I don't know the exact timing of such a move. But I believe it will happen within the next few months. Downward reversion to the mean will play a role.
Likewise, I notice that the gold and precious-metals sector is in the midst of a three-year decline. I see that junior mining stocks have declined every year since 2011. Most of the best names in the space are down more than 80%.
I'm 100% certain that eventually, this downward trend will reverse. And I know that when that occurs, the resulting price increases will be dramatic. I believe average gains in excess of 250% are likely.
Porter recommends taking a small portion of your portfolio and slowly building a position in the highest-quality gold companies...
Sell about 10% of your existing portfolio. Take profits from things like biotech and airlines – industries that have enjoyed huge runs higher. With this 10% of your portfolio, identify eight to 10 gold stocks that you're certain will be in business five years from now.
Focus on high-quality business models (like royalty companies) and companies with high-quality balance sheets. Focus on great management teams. Buy these eight to 10 names on days when gold gets kicked lower and the stocks sell off even more. Learn to enter "stink bids" – limit orders that are 5%-7% below the market price. You'll be surprised how often those bids will get filled in a weak market.
Build this portfolio patiently over the next six months. Be a buyer this fall when other investors are selling for tax-loss reasons. That'll be the bottom.
Our colleague Steve Sjuggerud is getting bullish on gold and gold stocks, too...
Steve has made a fortune for his subscribers by recommending cheap and hated assets. And right now, Steve says gold and gold stocks are both. As he noted in
DailyWealth
this week...
Nobody is expecting a crisis (similar to the one Greece just had) in the U.S., so the prices of classic "hard assets" – like gold and gold miners – are attractively priced today.
The price of gold – astonishingly – is at a five-year low. Compare that with stocks, which have run up for six consecutive years.
And gold is HATED today. According to my friend Jason Goepfert (who runs
SentimenTrader.com
), gold sentiment today is lower than it was in February 2001 – when gold was around $260 an ounce.

As Steve pointed out, gold is even more hated today than it was in 2001... just before it started a 10-year, 700%-plus rally. But as hated as gold is, the sentiment toward gold stocks could be even worse. More from Steve...
"Prices of many mining companies have fallen by over 90%," my friend and successful natural resources financier Jeff Phillips reminded me over lunch this month in San Diego.
Jeff is using the massive bust in small-cap mining companies as a buying opportunity...
"I don't know if the new bull market in resources starts six months or 12 months from now," he said. "But the prices right now for quality assets are incredible. You don't have to buy lower-quality assets that are cheap... Why do that when you can buy high-quality companies at great prices today? I'm buying."
Steve's investment philosophy is to wait for an uptrend to start before buying. So unlike Porter, he's not buying just yet. But he expects to buy "heavily" soon...
The great part about holding gold and gold miners is that your downside risk will be limited. With gold at a five-year low and the shares of mining companies down by 85%, you will hardly be buying at the top when the time comes!
Once the uptrend kicks in, I suggest you buy these "crisis hedges" heavily.
And if our colleague Jeff Clark is correct, that uptrend could be starting soon.
Earlier this week
, Jeff explained why the "smart money" says gold is headed higher from here...
In short, the most recent Commitment of Traders (COT) report showed the "smart money" was short just 14,000 contracts. This is an extreme that has marked at least a short-term bottom in gold over the past few years. History shows a double-digit rally is likely here.
But Jeff is also seeing signs that a long-term bottom in gold and gold stocks could finally be approaching. In particular, Jeff pointed out the extreme relationship between gold stocks and the broad market. As he recently noted to his Stansberry Short Report subscribers...
Consider this... while the S&P 500 has rallied sharply over the past few years, gold stocks have declined. Now we've reached the point where, relative to the S&P 500, gold stocks are as undervalued as they were in 2002 – at the beginning of the previous gold-stock bull market.
Take a look at this chart comparing the Gold Bugs Index ("HUI") with the S&P 500 ("SPX")...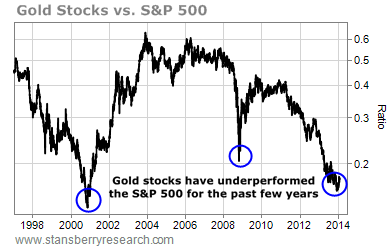 A declining chart means gold stocks are underperforming the S&P 500. A rising chart means gold stocks are outperforming. Gold stocks have been underperforming the broad stock market for the past few years.
But now, the relationship is hitting an extreme level.

The ratio has now dropped below the 2008 bottom... and it's nearing the all-time extreme in 2000 that marked a major bull market high in stocks, and a major bear market low in gold stocks. Jeff believes we could be seeing the same thing today.
At the same time, Jeff says gold stocks are hitting a rare "oversold" extreme...
We're also seeing extreme oversold conditions on the Gold Miners Bullish Percent Index ("BPGDM"). Take a look...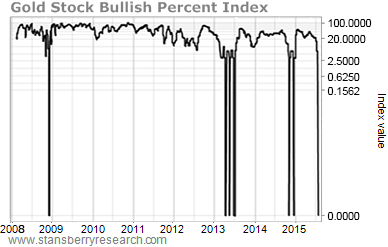 The BPGDM displays the percentage of gold stocks that are in a bullish "point and figure formation" on the charts. (Point-and-figure charting is an old method of establishing short-term trends for a stock.)
BPGDM hitting zero means there aren't any gold stocks trading in a bullish formation. That's a rare condition that has only happened a few times over the past decade.

Taken together, Jeff says these signs suggest we're on the verge of a major, long-term bull market in the gold sector.
So... what should you do?
First, as Porter suggests, become familiar with the sector. Learn about the best companies and top management teams.
Consider slowly building positions in the stocks you'd like to own. If you're conservative, start slow or wait for a defined uptrend to increase your positions, like Steve suggests.
This conservative strategy is likely to double your money over the next several years with relatively low risk. And for most folks, this is plenty.
But if you're in a position to take a little more risk, we believe junior resource stocks are offering the kind of opportunity that only comes along once in a decade or more.
If you like the idea of starting with a small investment and potentially increasing it by 10-, 20-, or even 30-fold... you owe it to yourself to learn more about the best junior gold companies now, before the next rally begins.
And no one in the world knows more about this sector than Doug Casey and our friends at Casey Research.
Click here
to take advantage of a special offer on their flagship junior resource advisory,
International Speculator
.
Regards,
Justin Brill