The Weekend Edition is pulled from the daily Stansberry Digest. The Digest comes free with a subscription to any of our premium products.
Another week, another new high for discount retailer Dollar General (DG)...
The Federal Reserve's easy-money policies help the rich (those who own the assets). These people are able to borrow money cheaply and buy stocks, real estate, and other assets that will appreciate with inflation.
Meanwhile, rising prices squeeze the low-wage earners. Their costs for everything from food to rent increase as their wages stagnate (or fall).

While this trend is terrible for working middle-class Americans, it has been great for stores that sell everyday goods at low prices (like Dollar General).
Shares of Dollar General broke out to new 52-week highs in June, and have continued higher since. The stock closed at a new all-time high earlier this month...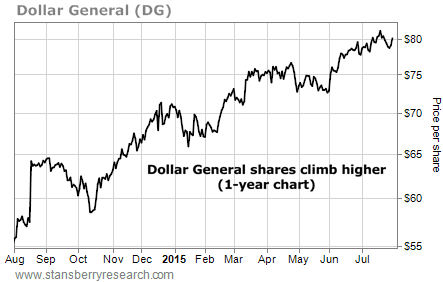 But this trend isn't just making it harder for everyday Americans to make ends meet...
It's also pushing the long-term dream of retirement out of reach for more and more folks. And a recent report from the U.S. Government Accountability Office ("GAO") shows just how bad things are getting...
According to the report, titled "Most Households Approaching Retirement Have Low Savings,"
50%
of households with members aged 55 or older don't have a retirement savings plan (such as a 401(k) or IRA). And 29% have no savings at all.
Among those who do, the news isn't much better. From the report...
The median amount of those savings is about $104,000 for households age 55-64 and $148,000 for households age 65-74, equivalent to an inflation-protected annuity of $310 and $649 per month, respectively. Social Security provides most of the income for about half of households age 65 and older.

As Charles Jeszeck, the GAO's director of education, workforce, and income security told CNBC, "There hasn't been a significant increase in wages, people have student loans and other debt, and many are continuing to struggle financially. We aren't surprised that people have not saved a lot for retirement."
Longtime subscribers know that our No. 1 goal at Stansberry Research is to tell you what we would want to know if our roles were reversed. We do our best to help readers
safely build wealth, while managing risk and avoiding common mistakes
.
But if you find yourself approaching retirement without enough savings, the truth is, smart investing alone may not be enough to get you where you want to be. And taking on more risk with the hope of "making up for lost time" is likely to end in disaster.
That's why we've teamed up with world-renowned success coach Tony Robbins (yes,
that
Tony Robbins) to offer you something we've never done before...
If you're not familiar with Tony, he's been a personal advisor and coach to some of the richest, most successful athletes, entrepreneurs, and investors in the world... And, like us, he believes that millions of Americans are on the verge of a retirement crisis.
Tony spent the last four years working with one goal in mind: To help ordinary Americans become financially free... no matter how much they earn or how deep in debt they are today.
He personally interviewed 50 of the world's richest and most successful people, and asked them one thing: "If you couldn't pass on any of your financial wealth to your children, but only a set of principles, what would they be?"
He put everything he learned in an incredible new book called Money: Master the Game. We believe this book is so important, we reserved 10,000 copies exclusively for Stansberry Research subscribers.
Click here
to learn more... including how you can get a real, hardback copy delivered to your door, free of charge.
Regards,
Justin Brill