While Chinese stocks were crashing...
While natural resource stocks were hitting fresh multiyear lows...
While major stock indexes were selling off hard...
One of the world's strongest uptrends didn't miss a beat... And DailyWealth Trader readers are making money.
If you understand the powerful financial secret behind this trend, you can cash in, too. Below, we cover all of the details...
Insurance companies collect premiums from their customers. And if they're good at what they do, those premiums exceed what they'll end up paying out in claims. In the meantime, they get to invest all that money. As Porter Stansberry has explained in his Investment Advisory, insurance companies get paid to use capital. "That's a fantastic way to become very wealthy," he wrote.
Insurance stocks are also a great way to play inflation defense. Insurance companies take in current dollars... and agree to pay out claims in "future dollars." Should inflation gradually erode the value of the U.S. dollar as some analysts expect, well-managed insurance companies will prosper.
And even after more than six years, these stocks still haven't recovered from the financial crisis. Back in 2008, investors couldn't sell insurance stocks fast enough. Big names like AIG made promises they couldn't keep. From its May 2007 peak to its March 2009 low, the iShares Dow Jones U.S. Insurance Fund (IAK) lost 78% of its value.
The government stepped in with billions of dollars in bailouts... And insurance stocks soared. Since bottoming in 2009, these stocks are up over 300%... outpacing the S&P 500 Index by nearly 50%.
Despite this big run, insurance stocks haven't gotten even close to recovering.
They're still cheap... And there's still a lot of upside ahead.
IAK holds big-name insurance companies, like MetLife, AIG, and Aflac... It's a diversified way to invest in insurance stocks... and it's enjoying a long, steady uptrend.
As you can see in the chart below, IAK is up 312% since its March 2009 low. It has far outpaced the S&P 500. IAK has also been impressive in the past few weeks. While the stock market was dropping, IAK was hitting new highs. That's a major display of strength.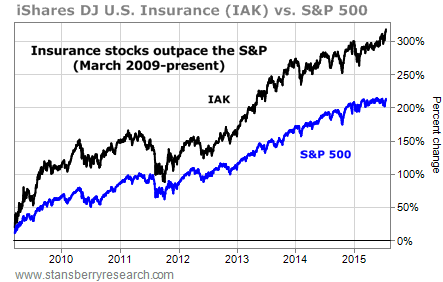 But even after this huge rally, insurance stocks are cheap. Over the past 20 years, the S&P 500 Insurance Index has had an average price-to-book-value (P/B) ratio of 1.65. Today, it has a P/B ratio of 1.12. IAK's holdings are even cheaper, with an average P/B of just 1.06. (Book value is a rough measure of the liquidation value of a company's assets. And the P/B ratio is a simple, useful measure of value for financial stocks.)
These ratios are exactly where they were five years ago... But shares have doubled. This means that the values of these companies have doubled right along with share prices.
So insurance stocks are cheap and they're in a big uptrend. And shares of IAK would have to increase 56% just to get back to
average
valuations. If you don't own insurance stocks yet, it's a great time to open a position. We recommend using a 15%
trailing stop
to protect your capital if the trend turns.
In sum, insurance is a fantastic business... And insurance stocks are historically cheap. These cheap valuations mean there's great potential for more upside. So as long as the trend is up, ride it for profits.
Regards,
Brian Hunt and Ben Morris