The Weekend Edition is pulled from the daily Stansberry Digest. The Digest comes free with a subscription to any of our premium products.
There are plenty of reasons to be concerned about the market...
Given the recent plunge in Chinese stocks, the ongoing crisis in Greece, and rumors of a Federal Reserve rate hike just around the corner, it's only natural to wonder if the markets here in the U.S. could be in trouble, too.
But like us, our colleague Dr. David "Doc" Eifrig believes it's important to look past the headlines and keep the "big picture" in perspective.
Longtime readers know Doc has been one of the
most outspoken bulls on the recovery in U.S. stocks and the economy
over the past several years. He shared his latest thoughts in the August issue of
Retirement Millionaire
, which published this week...
The best you can do when the market starts falling is to ask yourself if there's a real reason to be scared of the state of the economy. We don't think there is.
For years now, we've been arguing that the economy has been "grinding higher." Others have warned of double-dip recessions, secret unemployment statistics, inflation, bankrupt municipal borrowers... We've been bullish on America and the country's future.
As Doc explained, the good news is everywhere...
The latest data show the economy is growing at nearly 3%, as measured by gross domestic product (GDP)... Unemployment is trending lower... Initial jobless claims – the number of people losing jobs today – are the lowest since at least 2000... And consumer sentiment, as measured by the University of Michigan's survey, is the highest it has been since before the financial crisis.
More important, Doc says you can finally see the improvements in the "real world" as well...
Every flight I'm on is packed like a sardine can. My winemaker friend Brenda tells me that a pedicure place that used to have walk-ins now requires at least a week's notice. Fancy restaurants near our Baltimore office are bustling, and it seems like a new one opens every other week. Rental cars in Florida are double the price that they were five years ago, and often there are not enough in each car class.
In fact, Doc says the most important question is no longer whether or not the recovery is "real." Instead, it's whether the economy has gone "too far, too fast" and is in danger of overheating again.
Fortunately, Doc says that's not a concern just yet. There are still a few important parts of the economy that are "lagging" behind...
First, wage growth hasn't kept up with the economy. According to the U.S. Bureau of Labor Statistics (BLS), private-sector wages have only grown by about 2% a year since the financial crisis, compared with nearly 3% for the economy.
Second, price inflation – as measured by the BLS' consumer price index (CPI) – has remained less than 2% for the past few years. And rather than increasing recently, it has actually been falling... sitting near 0% for most of this year.
Finally, and maybe most important, Doc says housing and construction still need to catch up to the rest of the economy...
Building houses used to be about 4.5% of the economy. Now, it's just 2%. If you know anyone who used to work in the industry, you probably know that it hasn't been busy. But it has been picking up. Just over the last year, construction spending has picked up 7.7% and the stocks of homebuilders have risen.
Doc is watching the situation closely, but says it's still far too early to be worried about the economy and the stock market...
We can't get overheated until we're firing on all cylinders. As each of these laggards picks up, they'll have a feedback effect that will drive the economy even faster. That leaves us plenty of room for this bull market to continue, even if there's a correction or two along the way...
There's simply no reason to run scared based on all the evidence out there... Above all, avoid the headlines and enjoy your summer.
And a recent move by popular coffee chain Starbucks (SBUX) suggests Doc's economic "laggards" could finally be starting to recover, too...
Starbucks is doing well. Shares are hovering near an all-time high, and CEO Howard Schultz recently noted that the company achieved record revenues, operating income, and earnings per share in the second quarter.
But while coffee prices are down more than 40% over the last nine months, Starbucks isn't passing those savings along to its customers. Instead, the company announced this week that it's actually raising prices on some of its popular menu items.
The
Wall Street Journal
published an article earlier this week explaining the move...
The Seattle company, like other coffee purveyors, often raises prices for its products when coffee prices increase, but the latest move comes despite a decline of about 42% in Arabica futures prices from a peak late last year. The increase, which takes effect Tuesday, will increase the cost of the average customer order by about 1%, Starbucks said. Bagged coffee won't be affected.
The increase comes from an overall need to manage business costs, including labor and rent expenses, a Starbucks spokeswoman said.
As the article noted, rising wages across the country have forced fellow food retailers, like Chipotle Mexican Grill (CMG), to raise prices of items on their menus, too – particularly in the cities with the largest wage increases.
Starbucks is increasing the prices of some of its coffees and lattes anywhere from $0.05 to $0.20 per beverage – a minimal hit to consumers' wallets, but a hit nonetheless.
As you can see from the chart below, Starbucks shareholders aren't hurting. Shares have steadily moved higher, while the spot price of coffee continues to decline...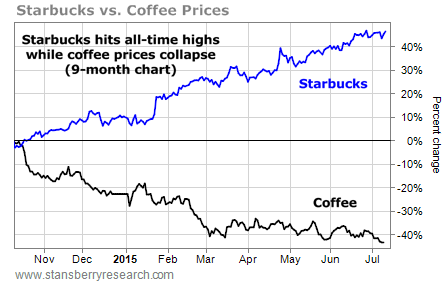 In the August issue of
Retirement Millionaire
, Doc also shares his No. 1 "strong buy" today... It's a simple way to earn 8%-plus yields in today's 0%-interest world, and it's on sale. It's like buying $1 of assets for just $0.87.
If you aren't already a
Retirement Millionaire
subscriber,
click here
to take advantage of a 100% risk-free trial. At just $39 for an entire year, there is no greater value in the investment world.
Regards,
Justin Brill