Many companies are suffering from low oil prices today...
But as I showed you earlier this month,
some companies are cashing in
. Oil refiners are buying cheap crude oil and selling gasoline, diesel, and fuel oil for higher prices.
And it's not just refiners that are profiting...
Energy is a key input in lots of industries. For example, according to the U.S. Energy Information Administration (EIA), the industrial sector – which includes manufacturing, mining, agriculture, and construction – accounted for almost a third of total U.S. energy use in 2012.
Of the industrial sector, the EIA says the cement industry is the most energy intensive.
You see, large amounts of fuel (generally fuel oil, gas, or coal) and electricity are required to make cement.
Leading cement producer Cemex (CX) says electricity and fuel accounted for 30% of its total U.S. production costs last year. The EIA estimates energy-intensive manufacturing industries like Cemex's consume 16% of energy, but produce less than 8% of output.
With oil prices down around 44% – to around $60 – over the past year, many cement producers' costs are dropping... And profit margins are increasing.
For example, over the 12 months ended in March, Cemex reported free cash flow (cash from operations less capital expenditures) of nearly $2 billion. That's double the 2013 level. It hasn't been this high since 2009 – which was also the last year the oil price averaged less than $65 per barrel.
And now, the company's share price is starting to benefit. Cemex is up more than 8% in the past three months.
But it's likely headed higher...
You see, the cement industry is growing. The EIA forecasts cement-industry output will grow at an average annual rate of 3.1% from 2013 to 2040. That might not sound like a big number, but the EIA expects the average energy-intensive industry to grow just 1.8% per year from 2013 to 2025 and 0.7% from 2025 to 2040.
The cement industry is growing to keep up with demand. Cement consumption has grown every year since 2010... in large part because of home-construction growth.
Housing accounts for more than half of cement consumption, according to investment bank Morgan Stanley. You see, when combined with water, cement becomes concrete. Today, just about every building and house uses concrete as part of its foundation. It's also used in driveways, patios, walls, and even in home interiors. (The remainder of cement consumption comes from industrial construction and infrastructure.)
And the number of homes being built is on the rise...
The housing sector suffered a huge bust from 2006 to 2008. When that happened, builders stopped building houses... and all of this underbuilding has left us with low supply.
You see, people are still having babies... and all these new families need roofs over their heads.
Now, with housing prices increasing, homebuilders are starting to build again to curb demand.
The U.S. Census Bureau just reported building permits issued to construct private housing units increased to a 13-month high in May.
But according to my colleague Steve Sjuggerud, the number of new homes being started is still well below average. Here's what he said in his recent True Wealth issue:
As you can easily see, we've underbuilt for eight years. At this point, basic economics is kicking in – there's not enough housing supply to meet demand.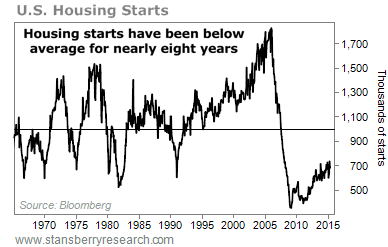 In short, even with the number of new homes being built increasing, we still need a massive amount of new homes to get back up to average levels.
All of these new homes will require concrete... And one of the biggest beneficiaries will be Cemex.
Cemex is based near Mexico's third-largest city, Monterrey. Its northern Mexico location is ideal for serving Mexico and the United States. It generates 50% of its sales in North America.
Its fundamentals are improving. I mentioned free cash flow is up since 2013. Cemex's profit margin is also up over this period. Yet, its market cap is about down about 8% to $12.3 billion. This trend appears to be reversing.
Right now, Cemex is one of the only cement producers that can handle a growing volume of sales. In a Morgan Stanley analyst report, the firm said Cemex's peers are at or near full capacity. Expansions from Cemex's competitors to increase their output won't start until 2017. So for at least the next two years, Cemex is one of the only producers able to increase its output. This means it will be able to take market share.
In short, as long as oil prices remain low, Cemex will benefit. I recommend looking into the stock today.
Good investing,
Brian Weepie