Easy-money policies from the Federal Reserve, the European Central Bank (ECB), and other central banks around the world have all but eliminated worries of deflation. And soaring debt levels and the ongoing "currency wars" – the global race by central banks to debase paper currencies – are making folks worry about inflation again.
In addition, zero-percent (and now even negative) interest rates have made gold more attractive.
You see, when bonds are expensive and paying next to nothing, and you can't earn anything on your money in the bank, gold – which also yields nothing but can't be devalued by central banks – starts to look attractive.
At Stansberry Research, we view gold first and foremost as "real money" – a form of savings – and always recommend holding a portion of your wealth in physical gold. (If you're new to the reasons for owning gold, be sure to check out our short introductions in the Stansberry Research Education Center,
here
and
here
.)
But we're particularly bullish on gold today...
In addition to the fundamental reasons we mentioned above, there are signs the long bear market in gold could be over... and a new bull market could now be starting...
As you may know, gold rallied from about $250 an ounce in 2001 to $1,900 in 2011... then fell nearly 40% to around $1,200 an ounce in 2013.
And it has been holding steady ever since...
Despite the violent moves in the currency markets over the past year – including the U.S. dollar hitting its strongest level in 12 years – gold is still holding up near $1,200 an ounce...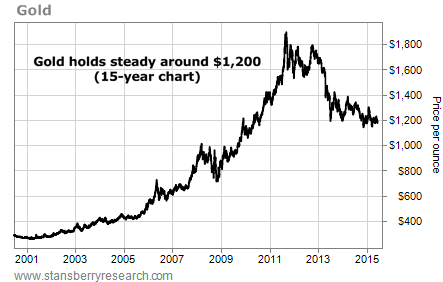 DailyWealth Trader editors Brian Hunt and Ben Morris explained why this is important earlier this year...
There's been a major development in the gold market. You see, gold tends to act as the "anti-dollar"... Traditionally, when the dollar declines, gold advances. When the dollar advances, gold declines...
So why is gold holding steady now?
There's a special factor supporting the gold price today. Currencies all over the world are plummeting in value... This decline in global paper currencies is so big... so severe... and so broad... it has overwhelmed the traditional tendency for gold to decline when the dollar rallies.
This has allowed gold to hold steady in the face of the dollar rally. It is holding steady when it isn't "supposed to." And when an asset refuses to fall when it's supposed to, it's a very bullish sign.
We're not alone in our bullish stance. Several of our colleagues, including Porter himself, think gold is a good buy at these levels. But
True Wealth Systems
editor Steve Sjuggerud has gone one step further...
Steve is predicting that a brand-new bull market in gold is starting now. He explained why in a special report for True Wealth Systems subscribers last month...
A rare signal recently flashed "buy" in the gold sector... This signal doesn't happen often. Two different signals actually need to come together for this to work. But when these signals converge, history shows that gold prices can explode higher.
A convergence between these signals has happened before every major move in the gold market over the past four decades.
Today, our systems have converged again. In short, a new gold bull market is starting right now. This is something we have to take advantage of. It could lead to massive gains in gold in 2015.

Steve explained just how powerful this buy signal can be...
The first time these numbers converged was on November 30, 1971. Gold prices soared by more than 300% in the next three years...
It happened again in the late 1970s... these two systems converged on November 30, 1976 and gold prices soared... This time gold soared by more than 500% in just a few years...
Not surprisingly, these systems converged last decade, just as gold prices entered a decade-long bull market. On September 28, 2001, these systems converged. Gold prices spent the next 10 years moving higher... and eventually soared more than 500% before peaking in 2011...
Simply buying gold today could be a fantastic trade. But as Steve explained in
Monday's DailyWealth
, he thinks investors can do much better...
In July 2005, I recommended three small gold stocks in my high-priced, speculative newsletter back then called Sjuggerud Confidential. (That letter was a predecessor to True Wealth Systems... without the systems.)
At the time, gold-exploration companies were dirt-cheap and completely ignored. Nobody wanted anything to do with them.
My top recommendation went on to return a 995% gain. That's the largest gain of any recommendation in the history of my publisher, Stansberry Research...

But Steve thinks the opportunity in gold stocks today is even better...
Gold-exploration companies have been decimated over the past four years. They're down [more than 80%] since April 2011. Take a look...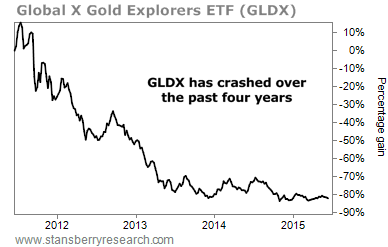 After a crash like that, gold explorers are cheaper today than they were in 2005 (based on how much gold you control when you buy a share of their stock). And they're more hated than I can ever remember. Nobody wants anything to do with them.

And Steve says the "big picture" for gold stocks is just as bullish...
This next chart is a ratio of a gold-stock index to the price of gold. Today, you can see that this ratio is right at its all-time lows...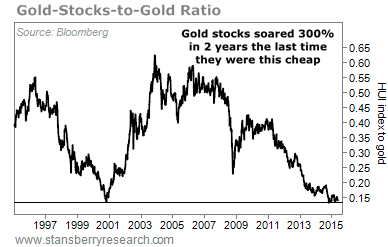 The only time this ratio got this low in the past was in late 2000 and gold stocks soared by 300% in two years after that.
Right now, we have one of the best opportunities in history to buy gold stocks.
Steve says all gold stocks could perform well over the next few years. But he expects the biggest gains will come from following the "blueprint" he laid out in 2005... buying "golden tickets" with huge hoards of gold in the ground.
That's what he is doing in his
True Wealth Systems
newsletter right now. And he recently put together a full report on the idea, which you can check out
here
.
Regards,
Justin Brill