If you want to profit from the falling dollar, look no further than Brazil...
On Tuesday, I explained that
the dollar bounce is about to end
. After rallying for the past two weeks, the dollar is now overbought... and ready to resume the downtrend it started in March.
And just like in April, one of the simplest ways to take advantage is by buying Brazil...
Brazil is a country rich in commodities like oil, timber, coffee, sugar, and iron ore. The boom and bust cycles of the Brazilian stock market tend to follow the booms and busts in commodity prices. And commodity prices tend to trade opposite to the dollar.
At the time, the dollar had peaked and had just started its downtrend. EWZ had just started to rally. And I argued that EWZ could make it up to the $37 level within a few weeks.
That's exactly what happened. Take a look at this chart: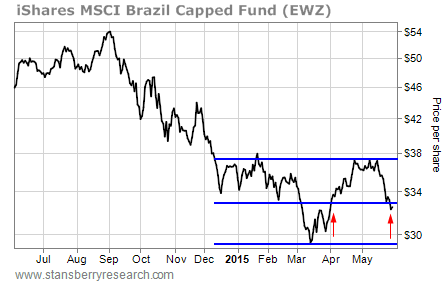 As the dollar index fell 5% during the month of April, EWZ rallied from $33 per share to a little more than $37. That's a 12% gain in only one month.
And now, EWZ is set up to do it again
.
The dollar index has bounced hard over the past two weeks – recovering a good chunk of what it lost in April. Not surprisingly, EWZ has given up its gains as a result. Now though, with the dollar set to resume its decline, EWZ is poised to rally.
EWZ closed Monday at about $32.50 per share – right on the support line connecting the December and February lows. This is an ideal, low-risk area for traders to buy EWZ.
If I'm wrong and EWZ breaks below support – on a move below $31.90, for example – then traders can exit the position for a relatively small $0.60-per-share loss.
But if the stock holds support here and bounces (as I expect it to), then it could rally back toward the $37 resistance level within the next few weeks. That's nearly a 14% gain from Monday's closing price.
Best regards and good trading,
Jeff Clark