The dollar is ready to turn lower again...
After peaking in March, the U.S. Dollar Index suffered a 6% decline into mid-May. It has bounced strongly, though, over the past two weeks – gaining more than 3%. And this action has a lot of folks looking for the buck to rally to even higher levels.
Those folks are likely to be disappointed...
At that time, the U.S. Dollar Index was testing support at the 94 level, and it was extended below its 50-day moving average (DMA) line. The index was also oversold on technical indicators like the Moving Average Convergence Divergence (MACD) momentum indicator.
This was an obvious place to look for a bounce back up toward the 50-DMA line at about 97.50. That would relieve the oversold conditions on the technical indicators.
But because there was no "positive divergence" on the MACD indicator, I said any bounce in the buck was likely to be short-term only. And it would set the stage for the next decline.
Now, take a look at the updated chart of the dollar index...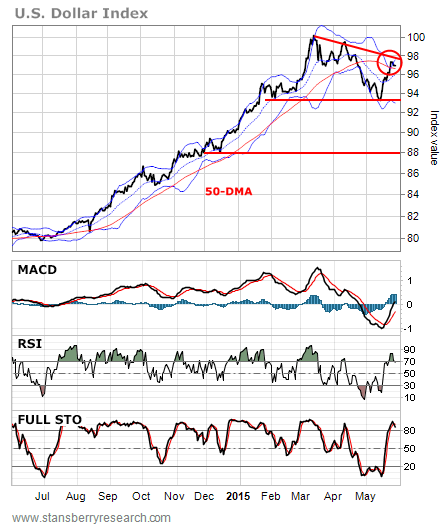 Over the past two weeks, the dollar has rallied all the way back up to its 50-DMA, which should now serve as resistance. This rally has eliminated the dollar's oversold condition. The dollar index closed last Tuesday above its upper Bollinger Band. That's an overbought condition.
You see, Bollinger Bands measure the most likely trading range for a stock or an index. Any time an index moves outside of its Bollinger Bands, it indicates an extreme move – one that is likely to reverse.
Notice also how the MACD momentum indicator is no longer oversold. It's back to neutral territory. And other technical indicators – such as the five-day relative strength index (RSI) and the full stochastics (two measures of overbought and oversold conditions) – have pushed well into overbought territory.
If the downtrend in the dollar is going to continue – as I expect it to – then this is just about the spot at which the decline should resume.
Traders should be looking for the dollar index to drop back down and retest the support line at about the 94 area. If that level fails, then the index could be headed to 88 over the next few months.
In short, the recent bounce in the dollar index is simply that... a bounce. When this bounce is over, the buck will resume the downtrend that started in March. We'll see a lower price for the U.S. dollar, and higher prices for all the assets that trade inverse to the buck.
Best regards and good trading,
Jeff Clark