U.S. stocks are near record highs... the Chinese market has soared... and the news on Europe's financial situation is getting "less bad."
All this has investors feeling good about the near future... and has sent the Volatility Index to basement levels.
You may not be familiar with the Volatility Index. But it's one of the most widely followed financial gauges in the world. It's also widely misunderstood. That's why you might be hearing or reading some useless beliefs on volatility.
In today's essay, we show you the three most important things to know about the Volatility Index right now.
The Volatility Index (also called the "VIX") measures the prices people are willing to pay for stock options. When folks are worried about a crash, they buy puts to protect themselves against falling prices. When folks want to lever up on bullish bets, they buy calls. Option prices rise and fall with demand... And the VIX rises and falls along with them.
Over the past three months, the financial news has been relatively good. The market has reached record highs. And as you can see in the chart below, this has helped send the VIX down to a little below 15 today. It's near a five-year low.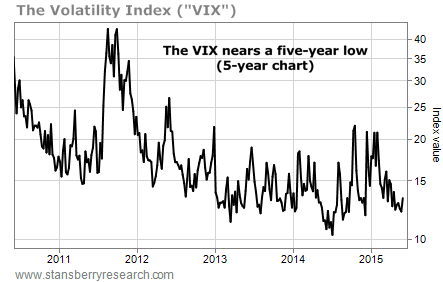 In
DailyWealth Trader
(
DWT
), we sell options (puts and covered calls) with our "trading for income" strategy. (If you're not familiar with the idea of selling puts and covered calls, you can learn more about how these strategies work
here
and
here
.)
So here's the first thing you need to know about volatility today:
We get paid more income for selling options when the VIX is high... And we get paid less when the VIX is low.
You might think a low VIX means we shouldn't bother selling options. It doesn't. It means we need to be picky... and only sell options on great companies trading at good prices.
We also want to make sure we're earning big enough returns for putting our money at risk. We suggest not accepting anything less than a 12% annualized payout for selling options.
Remember, options prices are low today... So we need to be picky when trading for income.
The second thing you need to know about volatility today is our "iron law of volatility"...
We've written about our "iron law of volatility" many times in our free e-letter DailyWealth. Here's how it works...
There are few sure bets in the financial markets... and few definitive "this is the case, and it always will be" statements we're comfortable making.
But one we'll stick by forever is, "Calm periods of pleasant headlines and gently rising prices will always be interrupted by periods of wrenching volatility... and vice versa."
Periods of steady stock returns and investor complacency will be shattered by crashes and rampant investor fear. Periods of crashes and fear will be followed by periods of steady returns and complacency... and then the circle starts over again. That's just the way the world works.
Statisticians call it "reversion to the mean."
We call it our iron law of volatility.
Over the last 25 years, the VIX has averaged a reading of 19.9. It reached an all-time low of 9.3 in late 1993... And it hit an all-time high of 80.9 in late 2008. We can say volatility is low when the VIX is below 15... And it's high when the VIX is above 25.
You can see the periods of low volatility followed by high volatility in the chart below...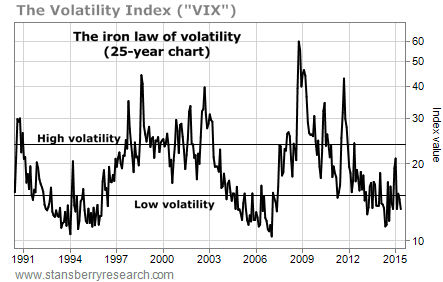 An extreme in volatility – either low or high – will eventually be followed by a move in the other direction. It might take weeks... months... or years... but it will happen.
That leads us to the third thing to know about volatility today:
Since the VIX is seen as a measure of investor complacency, some "experts" claim that investors are so complacent and dismissive of risk that the market is set to crash. This is bunk.
The chart below shows the S&P 500 (the black line) and the VIX (the blue line) over the last 25 years. You can see that stocks rose for years while volatility was below average from 1992-1997, 2003-2007, and from 2012-today. In other words, stocks can rise for years at a time while the VIX is below average.
Also, stocks can rise when the VIX is above average. Look at the periods from 1998-2000 and 2009-2012.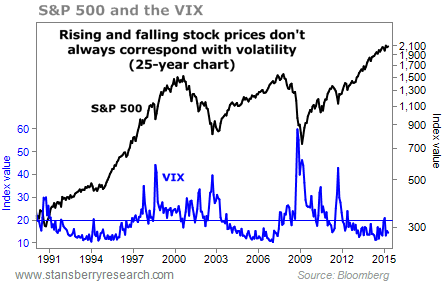 A low VIX does not mean stocks are going to crash. There is no evidence to back up a statement like "A low VIX means too much investor complacency and too little regard for risk, so a crash is around the corner."
The VIX is low... and it's a common discussion topic on the Internet and financial television. If you know the ideas we covered today, you're ahead of 99.9% of your fellow investors.
Regards,
Brian Hunt and Ben Morris