The price of natural gas has spiked 15% higher over the past month.
Ultimately, natural gas prices are likely to trend even higher over the next few months. But in the short term, the commodity is due for a breather.
Take a look at this updated chart of natural gas...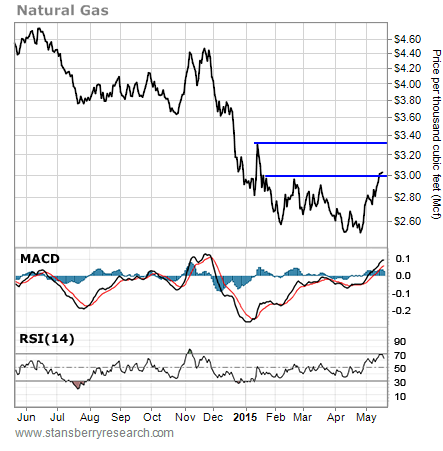 Last month, I suggested an inverse head-and-shoulders pattern was developing on the chart. This is a bullish pattern that signals the end of a downtrend and the beginning of an uptrend. The left shoulder and the head of the pattern were already in place. All that was left to complete the pattern was a rally back up to the neckline followed by a drop back down to a higher low – which would form the right shoulder.
Now, we've gotten the rally up to the neckline. The price of natural gas is bumping into resistance at about $3 per thousand cubic feet (Mcf).
It's also modestly overbought on the moving average convergence divergence (MACD) momentum indicator and the relative strength index (RSI). So this is a reasonable spot to look for a short-term top in the price of natural gas.
Traders should now look for a move back down toward the $2.60 price level. That's above the $2.50 low in April, and it's symmetrical with the low in February. That sort of move would work off the current overbought conditions, form the right shoulder of this pattern, and give traders an excellent chance to re-enter this trade.
It would also set the stage for an even stronger rally toward the $3.30 price target.
But for now, a 15% gain in one month on a volatile commodity is a solid trade. It's time to be smart and take some money off the table.
Best regards and good trading,
Jeff Clark