Oil prices have been rallying over the past two months.
The price of benchmark West Texas Intermediate (WTI) crude oil is up around 40%.
Oil stocks have moved higher, too. Many oil producers – like Continental Resources, Range Resources, and Callon Petroleum – are up double digits.
In short, oil investors are making money again. But there's still a reason to be cautious on the sector...
The recent move in oil prices is less about fundamentals and more about the drop in the U.S. dollar.
As regular Growth Stock Wire readers know, new drilling techniques have allowed U.S. oil companies to tap into vast oil and gas reserves locked away in shale.
This has sent U.S. oil production soaring more than 100% from the low in 2008 to today. That's a massive increase in a short period of time. And as we've shown in these pages before, these technologies
will help U.S. oil production keep soaring
.
More supply than demand and a strong U.S. dollar caused the oil price to fall over the past year. WTI crude oil fell 60% from June 2014 to March 2015.
But recently, the price of WTI crude oil has been heading higher. It's up around 40% from its March bottom. However, decreasing supply or increasing demand isn't the primary factor driving the move higher.
According to Goldman Sachs, "despite the perception of improving fundamentals, our updated supply and demand balance points to a still well oversupplied market in 2015."
And the chief financial officer of oil giant Royal Dutch Shell recently told investors that consumption growth is not enough to bridge the divide with supply.
So if the rally isn't driven by fundamentals... what's going on?
Simple... the U.S. dollar has been falling.
Oil – like most commodities – is priced in dollars. So if the value of the dollar rises, it takes fewer dollars to buy a barrel of oil. And if the value of the dollar falls, it takes more of them to buy a barrel of oil.
From July to mid-March, the dollar increased 25%. Bloomberg economist Michael McKee says the dollar hasn't made such a large move this fast in decades. The move helped push down oil prices.
But on March 16, the dollar peaked. As of Monday's close, it was down 6% since then. As you can see in the chart below, this weakness has caused oil prices to move higher.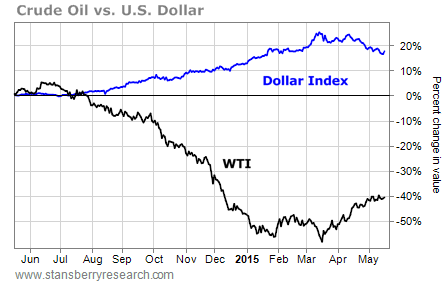 Oil stocks have also been moving higher.
The SPDR S&P Oil & Gas Exploration & Production Fund (XOP), which holds shares of exploration and production firms, was up 7% at Monday's close.
In short, oil and oil stocks have rallied in large part because the dollar has been falling. When the dollar stops falling, we could see the rally end. We got a glimpse of this yesterday when the dollar rallied and oil and oil stocks fell.
That's why you should be cautious on the sector right now. It's possible the oil rally will continue – and even turn into a new bull market. So I'm not saying you should sell your oil stocks today.
But with the dollar behind most of the move higher, it is time to tighten your trailing stops. This will allow you to stay in your trades if we get a bull market. But it will also protect you in case this rally ends.
Good investing,
Brian Weepie