The Weekend Edition is pulled from the daily Stansberry Digest. The Digest comes free with a subscription to any of our premium products.
The raging bull market in biotech continues...
Biotech stocks have been booming this year, fueled by a surge in mergers and acquisitions (M&A) in the sector. According to the Wall Street Journal, M&A activity in the first quarter of 2015 eclipsed $59 billion... more than any year since 2009. And the latest "blockbuster" deal was just announced...
Last week, Alexion Pharmaceuticals agreed to buy Synageva BioPharma for $8.4 billion, or about $230 a share... more than twice the company's share price before the deal. Bloomberg reports it's the third-most expensive biotech deal on record, behind only Stansberry's Investment Advisory pick Bristol-Myers Squibb's deal with Inhibitex in 2012 and pharma giant Merck's takeover of Idenix Pharmaceuticals last year.
The surge in activity has some folks warning of a "bubble" in biotech. But
Stansberry Venture
editor Dave Lashmet disagrees. In an e-mail this week, Dave told us why...
There are a few reasons why mergers and acquisitions are hot in biotech right now, and none are because we're in a bubble...
Chiefly, acquisitions are needed because big pharmaceutical companies have been reducing internal spending on new drug research. Rather than take on the risk of developing 10 or 20 drugs to get only one or two approved, the bigger companies are now buying the successful drugs developed by smaller companies. The smaller companies, in turn, benefit from the bigger firms' stronger sales force. This is the new order of business.
We're also seeing some merger activity when mid-size companies have a stable of new, innovative drugs. Again, larger firms will buy them to keep their pipelines of new products full. It's the nature of this market that drug patents expire, so successful firms have to reshuffle their products all the time...

No one has followed the biotech boom as closely as Dave has... and his Stansberry Venture subscribers are making incredible gains. Late last month, his third Venture recommendation nearly doubled overnight when a major pharmaceutical company agreed to partner on its new cancer drug.
As we mentioned last week, each of Dave's first three biotech recommendations are up between 123% and 197%, as of Thursday's close. Congrats to Dave and Venture subscribers.
Longtime Stansberry Research readers know our own Steve Sjuggerud is bullish on the U.S. housing market. Steve was one of the first analysts to anticipate
a rebound in housing
... and one of his favorite ways to profit from that rebound through the stock market is hitting new highs again.
Editor in Chief Brian Hunt discussed Steve's recommendation of investment firm Blackstone Group in the April 16 Digest, noting that True Wealth subscribers were collecting a 15.7% yield on their initial investment. The private-equity giant scooped up more than $1 billion worth of houses in 2012 alone, making a massive bet on rising home prices.
That bet has paid off well for Blackstone... and Steve's subscribers. Last month, the company reported record-breaking first-quarter earnings. Shares are up 254% since Steve recommended shares in November 2012...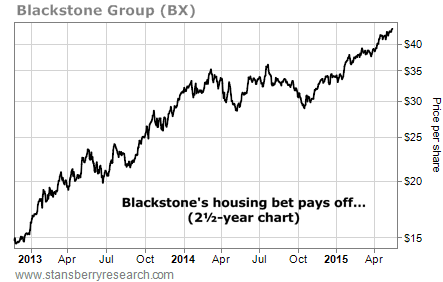 Housing isn't the only controversial call Steve has gotten right...
Back in November, China's central bank – the People's Bank of China (or "PBOC") – cut interest rates for the first time in two years.
Steve said China was taking a page out of former Federal Reserve Chairman Ben Bernanke's playbook. Steve summed up the situation in the
November 24 issue of DailyWealth
...
Lower interest rates add more fuel to the fire in China's stock market. This is exactly what's happened in the U.S. over the past few years (what I've called the "Bernanke Asset Bubble"). Now China is following suit, cutting interest rates and boosting asset prices in the process.
Also, last week, China launched the Shanghai-Hong Kong Stock Connect. In short, this gives more foreigners the ability to buy local Chinese stocks.
In addition, the Chinese government has been on a public-relations campaign to pump up the stock market.
In March, the PBOC cut interest rates a second time. And this week, China was at it again...
The central bank lowered interest rates for the third time in six months, cutting one-year lending rates from 5.35% to 5.1% and cutting one-year deposit rates from 2.5% to 2.25%. Analysts expect more cuts this year as China continues to fight a slowing economy.
The Shanghai Stock Exchange soared 3% in one day on the news. True Wealth subscribers are sitting on gains of 86%, 27%, and 19% in three of Steve's top China recommendations.
Interest rates weren't the only big news from China this week...
According to Reuters, China is the world's top user of almost all commodities, including coal, iron ore, and most metals... and now you can add oil to the list.
New data show that China overtook the U.S. last month as the world's biggest importer of crude oil for the first time ever. China imported 7.4 million barrels of oil per day – representing one of every 13 barrels used around the world – compared with 7.2 million in the U.S.
This news reconfirms two big trends we've discussed many times in the Digest...
The U.S. shale oil boom is dramatically lowering America's dependence on foreign oil... and China's emerging middle class will create a historical long-term demand for commodities.
Granted, commodities have experienced a brutal bear market. Prices have been clobbered across the board, thanks to a surging U.S. dollar and a slowdown in the global economy (led by China).
A quick heads up to end today's essay...
Longtime readers know we
love royalty companies
. They're among the safest, most profitable commodity investments you can make. That why we want to make sure you see the latest research from
Extreme Value
editor Dan Ferris...
In short, Dan says he has found the next great royalty company. He thinks investors buying today have an opportunity similar to buying Franco-Nevada or Royal Gold – two of the world's biggest and most successful royalty companies – 25 years ago...
In the early 1990s, Royal Gold went from a literal penny stock – trading for $0.03 a share... to $100 a share in 2012. The company has generated returns of more than 200,000% since 1992. If you had put just a modest $500 into Royal Gold back then, you'd be a millionaire today. The key is, you have to get in early...
Dan is so bullish, he says if he had to put all his money in just one stock, this would be it. If you know Dan like we do, you know he doesn't make comments like that lightly.
Click here
to learn more about this incredible opportunity. Dan says this stock could soar out of "buy range" at any time. So if you're interested, we urge you to act quickly.
Regards,
Justin Brill