There's more downside ahead for the U.S. dollar...
After peaking at more than 100, the U.S. Dollar Index suffered a big pullback. And with traders looking to sell the dollar into strength, I said we could see a short-term decline down to around 94. If things got particularly nasty, I said the dollar index could fall all the way to 88.
Last week, the dollar index reached our first downside target. And it's likely that we'll see our second target soon...
Take a look at this updated chart of the dollar index plotted with its Moving Average Convergence Divergence (MACD) momentum indicator and the Full Stochastic Oscillator indicator – another measure of momentum...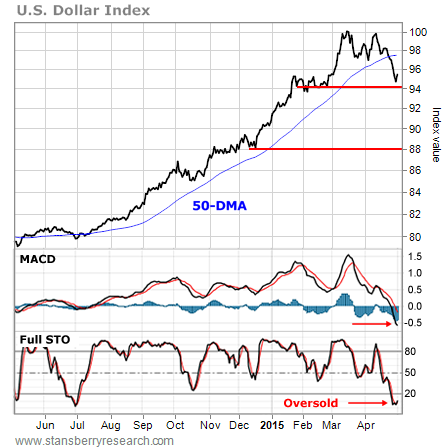 As you can see, the dollar index hit our first downside target of around 94 last week. That's a support area on the chart, and it's a logical spot at which to expect the buck to bounce. The index is also oversold on both the MACD momentum indicator and the Full Stochastic Oscillator indicator. A short-term bounce would help relieve those oversold conditions.
But notice how there's no positive divergence on the MACD indicator. In other words, as the dollar index has fallen, the MACD has fallen right along with it. This tells us the current downtrend is strong, and we're unlikely to see a reversal just yet.
So any bounce in the buck is likely to be short-term only. There's still more room for the dollar to fall.
It looks like the dollar index could rally back up toward its 50-day moving average (DMA) line at about 97.50 – which should now serve as resistance. That would relieve the oversold conditions on the technical indicators and set the stage for the next decline.
(This is also the point when traders looking to profit from more downside in the buck can buy some of the assets that move in the opposite direction – like
Brazilian stocks
.)
After that, we'll likely get a more significant decline, which could break the support level at 94 and head toward the next downside target near 88. Then we can start looking for positive divergence in the technical indicators and a possible end to this short-term decline phase in the buck.
Best regards and good trading,
Jeff Clark