Over the past 10 years, one gold stock has outperformed the market.
It has returned more than blue chips like oil giant ExxonMobil, technology-service provider IBM, and even Warren Buffett's own Berkshire Hathaway.
Its share price has soared more than 230%... while the S&P 500 has only climbed 82%.
And if gold manages to rally in the coming years, it's going to perform even better...
The company I'm talking about is Royal Gold (RGLD).
Regular readers are familiar with precious-metal royalty companies. These companies mine no metals of their own. Instead, they finance early stage mining projects or buy existing royalties. When the mine begins producing, the royalty company gets a cut of the cash flow.
Think of it this way... One company finds raw land, builds a new housing development, and then draws in people to rent. It manages the development and chases down delinquent payers.
This company takes enormous risks. It lays out huge investments and hopes that it will eventually get its money back. Royalty companies aren't like that.
Royalty companies essentially invest after the houses are full of renters... they just show up on rent day and get a check for their share.
The royalty business model shields these companies from swings in the price of gold more than regular gold miners. That's why even though the price of gold fell more than 15% over the past two years, Royal Gold's share price still rose more than 20%.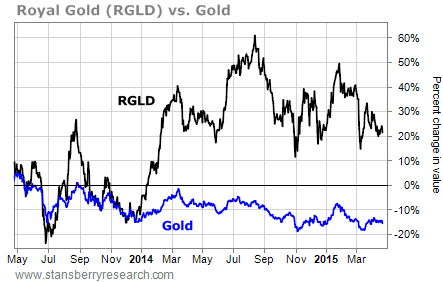 The royalty business model also allows royalty companies to benefit from low gold prices. With gold prices down around 37% from their 2011 peak, many gold miners are desperate for cash. That means royalty companies like Royal Gold have been able to "buy low"... paying less for future royalties from mines. When gold prices increase, so will the value of their royalties... which will go straight to royalty companies' bottom lines.
And gold prices are likely headed higher...
You see, world banks are printing massive amounts of money right now. Europe, Japan, and China have all followed the U.S.'s lead in adding money to their systems to boost their economies. By doing this, they're devaluing their currencies. For example, the euro has fallen 29% versus the dollar in the past year. And Japan's yen has declined 17% against the dollar in the same time frame.
When a paper currency falls in value, it takes more of it to buy gold.
Unlike paper currency, you can't just print more gold. There's a finite amount of it in the world. According to metals-markets research firm Thomson Reuters GFMS's gold survey, just 171,300 metric tons of gold (equal to a 68-foot cube) has ever been produced. The British Broadcasting Corporation (BBC) says you can also think of this cube as being the length and width of a tennis court, and about 32 feet high.
With the world's governments continuing to print more and more paper money, it will take more and more of it to buy gold. That's why I expect we'll soon see a massive rally in gold prices. And higher gold prices will be great for royalty companies like Royal Gold.
Good investing,
Matt Badiali