That's still possible.
Even the most stubborn bull would have to admit the market has done a poor job of taking advantage of seasonal strength. With just six trading sessions left in what should be one of the most bullish times of the year for the stock market, the S&P 500 is still just barely clinging above support.
That's one caution sign.
Here's another... Take a look at this updated chart of the Financial Select Sector SPDR Fund (XLF) plotted along its nine-day exponential moving average (EMA) and its 50-day moving average (DMA)...
As you can see, financial stocks are breaking down.
The red circles on the chart highlight the times over the past year when the nine-day EMA crossed below the 50-DMA. These "bearish crosses" led to swift declines in the financial sector... and corresponded to quick declines in the broad stock market.
As regular Growth Stock Wire readers know, financial stocks typically lead the market. In other words, if the broad stock market is about to fall, financial stocks tend to be the first to start trending lower.
On Tuesday, XLF's nine-day EMA closed just below the 50-DMA. That has created a bearish cross that, unless it reverses immediately, could set off a sharp decline in the financial sector. That, in turn, would likely lead to a quick decline in the broad stock market. It could lead to the sort of 10% correction we've gone so long without.
Now, here's our third caution sign...
Take a look at the weekly chart of the S&P 500...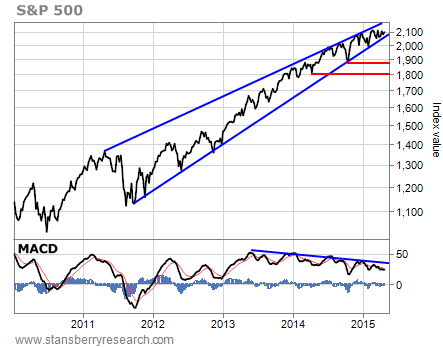 This weekly chart shows a four-year-long rising-wedge formation with significant negative divergence on the Moving Average Convergence Divergence (MACD) momentum indicator. In other words, as the S&P 500 has been making higher highs and higher lows, the MACD has been making lower lows. This is potentially a bearish pattern.
If the index breaks below the support line of the wedge (currently at about 2,070), then at a minimum, it's likely to retest last October's low at about 1,860. That's a drop of just more than 10%.
A particularly nasty decline could drop the index all the way back to the 1,800 level. If that happens, then we're probably not looking at a correction anymore. It may mark the beginning of a new bear market.
But let's not get ahead of ourselves. For now, I'm concerned about the possibility of the market suffering a 10% correction. If you're not yet prepared for that, then it's time to get defensive.
I'm not suggesting that you sell everything right here. The market hasn't done anything wrong yet. The charts are still holding up. And the S&P 500 still has a shot at making new all-time highs.
But it is time to tighten up your stops. Don't let your profitable positions slip away.
And be careful adding more long exposure to the stock market at this point. Most new long positions should be limited to stocks that are not over-extended to the upside. Bargain-priced value stocks with solid dividends and commodity-sector stocks that typically trade opposite the market are good candidates for purchase.
Aggressive traders can also start looking for potential short-selling setups.
In short, take a look at your account and picture every position falling 10% from its current level. If that thought makes you uncomfortable, then now is probably a good time to start raising some cash.
Best regards and good trading,
Jeff Clark