When the price falls so far that oil companies can't make money, they lay off workers and slow production. This often happens around the same time people remember how useful oil is... and start using more of it.
Lower supply meets increased demand... And prices stabilize.
How do you profit from sideways price action in volatile oil stocks?
It's tough... and we don't suggest taking that risk.
Instead, we like collecting "instant income" by selling options (puts and covered calls) on the biggest and best "integrated" oil firms. These are companies like the second-largest publicly traded stock in the U.S., ExxonMobil.
Unlike exploration and production companies, integrated oil companies (also called "Big Oil") not only explore for and produce oil... they transport it, refine it, and sell it as gasoline, diesel fuel, and jet fuel. They collect fees all along the chain... So they aren't as vulnerable to oil-price declines. They may decline a little with the price of oil, but they don't crash like exploration and production companies.
You can see this dynamic at work in the chart below. It plots the share price performance of Big Oil leader ExxonMobil (XOM) versus the S&P Oil & Gas Exploration & Production Fund (XOP), which holds shares of exploration and production firms. It shows how Big Oil's robust business model allowed it to weather the 2014 oil crash.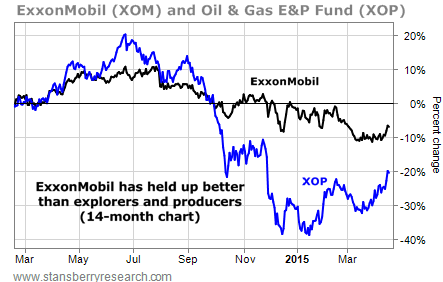 By selling options on Big Oil stocks like ExxonMobil – which are less likely to experience sharp price moves – you can make money if shares move sideways or even fall a bit.
It's a great strategy for today's market. (If you're not familiar with the idea of selling puts and covered calls, you can learn more about how these strategies work
here
and
here
.)
We can't say that oil has hit its ultimate lows. Although it looks likely given the recent market action, rising oil supplies or more negative economic news could send prices even lower. But by selling options on Big Oil stocks, we collect income no matter where oil goes from here.
Regards,
Brian Hunt and Ben Morris