Coffee is gearing up for a comeback.
After giving us a couple of good trades last year – which produced quick gains of 70% and 24% – the price of coffee collapsed. It's down almost 40% from its peak in October.
But we now have a great opportunity to buy back into the trade in anticipation of another rally.
Let me explain...
Since then, coffee prices have fallen. At today's price of around $1.35 per pound, coffee is trading almost 40% below its peak in October and at about the same price it traded at just as the rally kicked off last year.
But now, another rally is setting up. Take a look at this chart...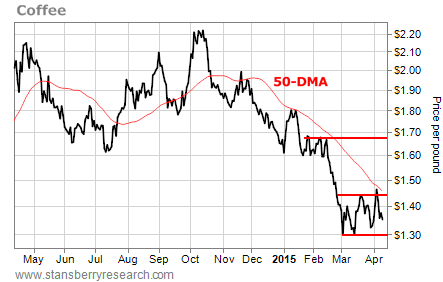 Coffee has spent the past two months chopping back and forth between support at about $1.30 and resistance around $1.45. This consolidation period has provided enough time for the 50-day moving average (DMA) line (the red line) to drop down closer to coffee's current price. Now, on the next move higher, coffee has a chance to take out the resistance line at $1.45 AND rally back above its 50-DMA.
That sort of action should be enough to kick off a new rally phase for the price of coffee.
The 50-DMA has provided resistance ever since the price of coffee broke below the line last October. A move back above the line should signal the start of the move up to the next resistance level near $1.70. That's a 26% gain from Friday's closing price.
Aggressive traders can buy coffee at around $1.35 per pound with a stop loss just below the March lows. If coffee can't hold that support line, it will eliminate the potential for an immediate rally, and there will be no reason to stay in the trade. Traders can exit for a small loss.
But if coffee can rally from here and get back above its 50-DMA, it will be poised for another fast move higher.
Best regards and good trading,
Jeff Clark