Starting in June 2013, we began a trading campaign in DailyWealth Trader so successful... and so unusual... that we'll be telling our grandchildren about it.
If you join in, maybe you'll do the same.
This campaign has included 24 trades. All of them have been profitable. The average annualized gain on these trades was more than 30%.
A gain of 30% in the course of a year is something you might expect from a riskier investment strategy. But we generated these gains with a strategy focused on one of the world's safest, strongest, most dominant companies.
And remember, this strategy has produced a win rate of 100%.
Extraordinary win rate. Extremely high annual gains. All while trading a safe, strong company. This sort of thing just doesn't happen very often. When it does, you remember it for a long time.
Fortunately, this strategy is still in play. It's still one of our favorite trades...
It involves selling put options on consumer-electronics giant Apple (AAPL)... and we can add to the win streak today. (If you're not familiar with the idea of selling options, you can learn more about how this strategy works
here
.)
The key to profitable option selling is to use the strategy with only great companies... and only when shares are trading at good prices.
Apple has a knack for surprising the world with market-changing consumer technologies. Portable CD players were instantly forgotten when Apple came out with the iPod in 2001. Flip phones were antiquated by 2007, when the first iPhone was released. A new category of devices – the tablet computer – was popularized when Apple launched the iPad in 2010.
These innovative, leading products have fueled sales growth for years.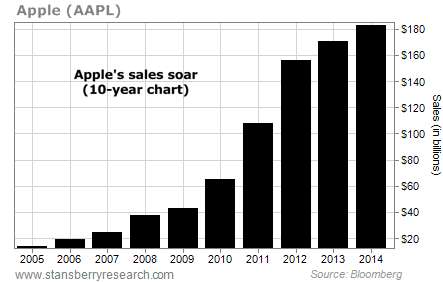 Last year, Apple sold $102 billion worth of iPhones, $30 billion worth of iPads, $24 billion worth of Mac computers, $18 billion in iTunes downloads, and $2 billion worth of iPods. It had a thick, 22% profit margin for the year.
Along with its current lineup, Apple has a strong product pipeline... The Apple Watch – due out later this month – could be the next blockbuster. Apple Pay has the potential to transform consumer purchasing... It's already in use at more than 700,000 locations.
And at today's prices, Apple is dirt-cheap. The stock trades with an enterprise-value-to-free-cash-flow (EV/FCF) ratio of 10. (Anything under 10 for a great company is a bargain.) Compare that with the stocks in the Dow Jones Technology Index, which trade with an average EV/FCF of 15.1.
A 34% discount to the average tech company is too cheap for the world's best.
As you can see in the chart below, Apple's share price has climbed 104% in the last two years. It's in a long, steady uptrend.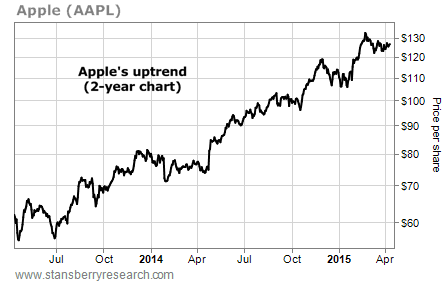 This is a trend that could continue for at least another year... and the stock still wouldn't be expensive. It's just what we like to see when we're trading for income...
Right now, you can sell the May 15, $125 puts on Apple for about $4.15. That's a 3.3% payout on your purchase obligation. Because each option contract represents 100 shares, selling one put contract on Apple means you'll collect $415 in income... And you'll have a $12,500 purchase obligation. (If this trade would mean taking on too large a position size for your portfolio, skip the option trade. We also like the idea of simply buying shares of Apple today.)
If Apple is trading below $125 on May 15, put-sellers will end up buying shares at a 4.9% discount to today's price. At that point, you can start collecting the stock's dividend... And you can sell covered calls to generate even more income. (You can learn how to do that
right here
.)
If Apple stays above $125, put-sellers will get to keep the $4.15 free and clear. In five weeks, that comes to a 37.9% annualized return.
Our Apple campaign has been a money machine since mid-2013. We've profited on 24 out of 24 closed trades and produced huge annualized gains. And we've made these gains with a safe, stable stock. With today's trade, we expect that success to continue.
Regards,
Brian Hunt and Ben Morris