The Weekend Edition is pulled from the daily Stansberry Digest. The Digest comes free with a subscription to any of our premium products.
Another week, another round of gains for Chinese stocks...
Last year, Steve noted that Chinese stocks were dirt-cheap and completely out of favor with both retail and professional investors... yet they were entering an uptrend.
Steve has analyzed the Chinese market for more than 20 years. He has visited China many times. He has the best contacts money can't buy. And when he began urging subscribers to invest in these stocks last year, he expected strong gains. But what's going on right now has surprised even old China hands like Steve...
Thanks to stimulus from the Chinese government and growing interest from local retail investors, the Chinese market has exploded higher. The country's stock indexes and individual stocks seem to be registering gains every day... including this week.
To get an idea of the explosive nature of this rally, see the chart below. It displays the past year's trading of one of Steve's preferred Chinese funds, the Deutsche X-trackers Harvest A-Shares Fund (ASHR). The fund is up 26% in just the past month. This rally has brought True Wealth subscribers 76% gains since Steve's recommendation just six months ago...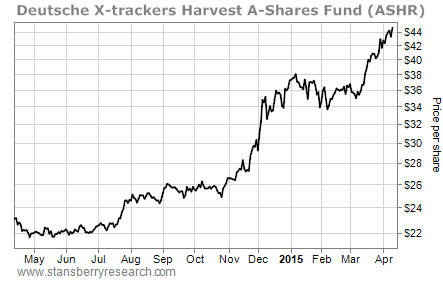 The share prices of many high-profile individual Chinese stocks are going bonkers. The chart below displays the past year's trading in one of China's biggest airline firms, China Southern Airlines (ZNH). It's up nearly 215% in the past year, and just struck a new high this week...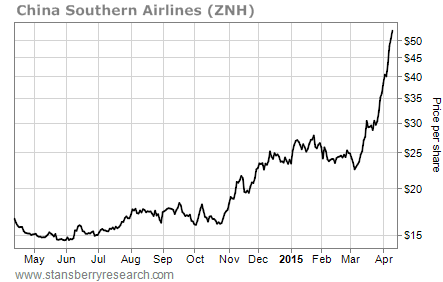 One of China's leading wealth-management firms, Noah Holdings (NOAH), is up 106% in the past year, and just struck a new high this week, too...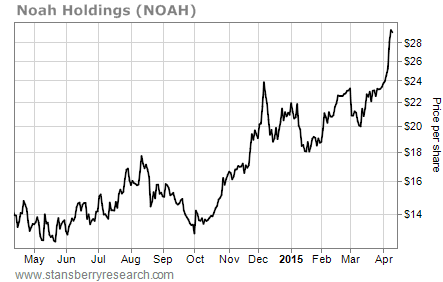 Vipshop Holdings (VIPS), one of China's largest online retailers, is up nearly 116% in the past year, and – you guessed it – just struck a new high this week...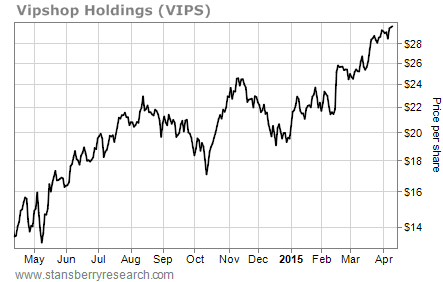 An interesting Chinese stock that
isn't
soaring is Chinese Internet retail giant Alibaba (BABA).
Last year, Alibaba was the source of incredible media hype when it went public on the U.S. exchanges. It's a $200 billion juggernaut that many say is like "China's Amazon and eBay." This makes it a top holding of growth-stock-focused mutual-fund and hedge-fund managers.
As you can see from the chart below, Alibaba soared after its initial public offering (IPO)... but that hype has worn off. The stock has declined from a high of $119 per share to around $85 per share (a nearly 30% fall). If the uptrend in China continues, I expect Alibaba's status as a premier Chinese growth stock to lift it back to more than $100 per share...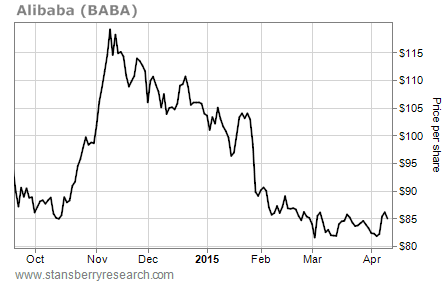 This begs the question: How much bigger can the China rally get?
Steve's answer: much, much bigger. Steve says that U.S. investors still aren't interested in Chinese stocks. Also, Chinese stocks are still relatively cheap.
This means we have a market with strong momentum... that is still off investors' radars... and that is still fairly inexpensive. That's a recipe for more gains. If you were smart enough to listen to Steve's advice, stay long.
Steve's amazing call on China once again has me shaking my head...
Many years ago, Steve made a choice that allowed investors to take advantage of what I consider to be the greatest deal in all of financial research. Because of Steve's choice, what Stansberry Research is able to offer with his True Wealth advisory is simply incredible.
If you're not taking advantage of this deal, you're crazy.
But before I tell you about this deal, I must reveal a bias. Steve is a good friend of mine... and one of my investment mentors.
I started in the financial research business in 2003. But I didn't answer a job ad. I wasn't brought to Stansberry by a recruiter. I chose to work for Steve before I even knew him. I literally tracked him down at an investment conference in Baltimore, Maryland. I told him I would work for free. I knew Steve was a smart guy. I wanted to work for him and learn from him. He hired me a week later (and actually paid me).
I had high expectations going in. But what I've seen Steve do over his career has amazed me...
Over the past 15 years, Steve has made a string of incredible investment calls. He urged people to exit the tech stock market in 1999 just before it collapsed. He felt stocks were far too expensive and far too popular to produce gains for anyone. As longtime investors know, the tech stock market imploded in 2000.
Instead of urging people to buy tech stocks in 2001 (like many people were still doing), Steve urged his subscribers to buy real estate stocks. Real estate soared in value in the years that followed.
Around this time, Steve also recommended buying high-yield corporate bonds, which were dirt-cheap because of the economic recession. It was one of the best times in a generation to buy high-yield bonds. Income investors earned huge yields and made large capital gains.
From 2003 to 2005, Steve urged readers to buy gold and gold stocks. Gold soared hundreds of percent after Steve's recommendation. I personally took his advice and put a large chunk of my net worth in gold bullion. It was one of the best investment decisions of my life. One of Steve's recommended gold stocks soared 995%. That gain turned every $10,000 invested into nearly $110,000.
During this time, Steve also foresaw how Chinese economic growth would drive the prices of commodities like copper and crude oil higher. He recommended natural resource equities as a way to invest in it. The next few years saw skyrocketing commodity prices and huge gains for natural resource investors.
I could list a dozen other amazing "big picture" recommendations. There's simply nobody better than Steve at sizing up the entire market – stocks, bonds, real estate, commodities, currencies, etc. – and finding areas of opportunity.
Steve is able to find opportunities in these various asset classes because he employs a brilliant – but simple – mental model of investment analysis.
Steve looks for cheap assets that are out of favor with the investment public. He also requires positive price action before buying these out-of-favor assets. This ensures investors aren't sitting on "dead money" for years in "do nothing" securities.
In order to exit – or even short – an asset class, Steve turns the model on its head. He looks for rich valuations, extreme popularity with investors, and a breakdown in price action.
When I say "there's nobody better," I don't just mean there's nobody better than Steve in the investment-newsletter industry. I mean there's nobody better than Steve at big-picture analysis in the hedge-fund world, the mutual-fund world, high-net-worth financial advisories, or elite Wall Street investment-strategy teams.
There's nobody better anywhere
.
Normally, someone like Steve would work at a billion-dollar hedge fund or a mega investment bank. He would live in a $10 million mansion near New York City or London. An asset manager would get him to sign an exclusivity agreement. "Normal" investors would never get access to his ideas.
But Steve isn't your typical guy... and that allows individual investors to get in on the greatest deal in all of finance. It allows us to publish True Wealth.
Years ago, Steve decided he didn't want to work 100 hours a week at an investment bank. He didn't want to live in a big city. He didn't want to spend half his days in strategy meetings. He wanted to raise his children in a small beach town. And as longtime Stansberry Research readers know, Steve wants to be able to leave the office and hit the beach in five minutes when the waves are right. (You can't do that in New York City.)
Instead of providing analysis and recommendations for a huge firm, Steve writes True Wealth for the individual investor. For thousands of people, Steve has debunked the myth that you have to take big risks to make big returns. He has proved exactly the opposite. You don't have to take big risks to make big returns. The average annualized gains of Steve's recommendations from 2001 to 2013 are 16.8%.
This is an extraordinary result when you realize it has been achieved with a diversified set of conservative recommendations that involve much less risk than the average investor takes.
What's it worth to receive financial research that allows you to conservatively make almost 17% a year? What is it worth to be alerted to situations like China, where you can make more than 70% in six months?
Financial advisors will charge you tens of thousands of dollars... hundreds of thousands of dollars... even millions of dollars to manage your money. They'll charge you a percentage of your assets to manage your wealth with ideas that are far inferior to Steve's.
Hedge funds will charge you at least 2% annually, and take at least 20% of your profits. For high-net-worth individuals, these fees easily exceed $1 million a year.
True Wealth... the advisory with Steve at the helm... the advisory with an extraordinary track record of nailing big trends... normally sells for just $99 a year.
It is less than $2 per week.
It's absurdly, laughably cheap for what you get: ideas that are worth millions of dollars.
If you're like I was when I discovered
True Wealth
, you might ask, "How can something worth so much sell for so little?"
It's because of a quirk in the newsletter business. To survive and grow, we have to reach as many prospective subscribers as possible. We do this by offering research subscriptions that cost less than a good newspaper. We're like dozens of other businesses. We offer something for a low price to get folks in the door and looking around at the rest of our products.
Whatever the reason, I'm thankful the deal exists. It's great for me. It's great for thousands of individual investors who want to put the odds in their favor.
As I mentioned, please take everything I write with a grain of salt. I'm biased. Steve is a mentor of mine. He's one of my good friends. But I can also tell you that if I didn't work at Stanberry Research, I'd be a lifetime reader of
True Wealth
.
Even after all this time, I still shake my head at the idea that I can get access to an "all world elite" investment strategist for just $99 a year. For the price of a nice dinner, I get access to all of Steve's contacts... I hear insights from his travels and meetings... I get warnings on what assets are the most dangerous... and I get alerts on what assets are poised to rally.
I hope Steve doesn't read today's essay. He might get an idea that would make many of us uncomfortable. I hope he continues to block out the idea that he could live in New York and make hundreds of millions of dollars a year. I hope the greatest deal in all of financial research is available for at least another 15 years.
Right now, you can take us up on an even better deal and get started on a risk-free trial subscription to
True Wealth
for just $39. If you're not satisfied after four months, we'll refund you 100% of your money. To come on board as a
True Wealth
subscriber,
click here
.
Regards,
Brian Hunt