The broad stock market is still holding on to its uptrend – but just barely...
There's no way to know for sure if the market will break to the upside or to the downside. But one sector in particular will lead the move... And right now, it's showing a precarious setup...
Take a look at this updated weekly chart of the S&P 500...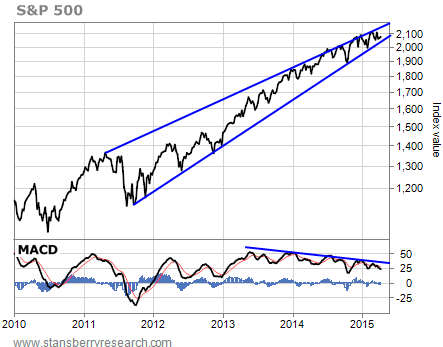 As you can see, the index rallied just enough over the past week to remain inside of the rising-wedge pattern I shared with you last week. So the uptrend remains intact. But not by much.
And last week's underperformance of the financial sector is warning stocks could be headed lower.
As regular
Growth Stock Wire
readers know,
financial stocks typically lead the market
. (I like to refer to the financial sector as "
the canary in the coal mine
.")
In other words, if the broad stock market is going to move higher, financial stocks move higher first. If the market is about to fall, financial stocks tend to be the first to start trending lower.
With that in mind, take a look at this chart of the Financials Select Sector Fund (XLF) plotted along with its nine-day exponential moving average (EMA) and its 50-day moving average (DMA)...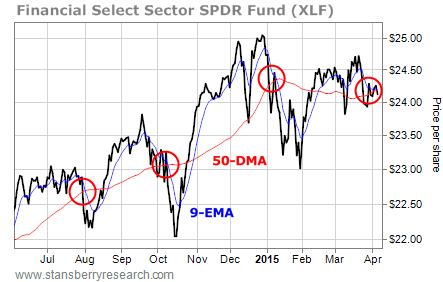 The red circles on the chart highlight the times during the past year when the nine-day EMA crossed below the 50-DMA. These "bearish crosses" led to swift declines in the financial sector... and corresponded to quick declines in the broad stock market.
It's worth pointing out that those quick broad market declines occurred while the weekly chart of the S&P 500 was trending well above the support line of the rising-wedge pattern. So there was no serious threat of breaking that pattern to the downside.
Today, though, we have more reason to be cautious.
On the XLF chart, the nine-day EMA is just pennies above the 50-DMA. It will only take a small decline in XLF to create a bearish cross that could set off a sharp decline in the financial sector. That, in turn, would likely lead to a quick decline in the broad stock market.
And with the S&P 500 currently trading just above the support line on the chart, it won't take much of a drop to break that support line to the downside. Once that happens, as I said last week, things could get real ugly real fast.
It doesn't have to happen this way. The financial sector could rally this week, avoiding a bearish cross on the chart. That would help keep the broad stock market uptrend intact for a while longer.
But if it goes the other way... if the financial sector starts to fall... traders should start raising cash and maybe even setting up a few short positions. The stock market will be headed lower.
Best regards and good trading,
Jeff Clark