The dollar has peaked.
And there's a simple way to profit off it... Buy Brazil.
Let me explain...
The last time we looked at Brazil was
back in December
. At the time, Brazil's stock market looked to be gearing up for a rally. There were some positive technical developments on the chart. But the price action was weak. So I wasn't ready to pull the trigger on the trade.
You see, Brazil is a country rich in commodities like oil, timber, coffee, sugar, and iron ore. The boom and bust cycles of the Brazilian stock market tend to follow the booms and busts in commodity prices. And commodity prices tend to trade opposite to the dollar.
So as the dollar put on a blistering rally over the past eight months, Brazilian stocks nose-dived.
Just look at this chart of the iShares MSCI Brazil Capped Fund (EWZ)...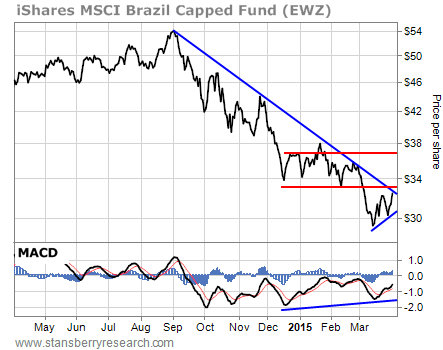 As the U.S. Dollar Index rallied 25% from July until the peak last month, EWZ fell more than 40% from its high in September to the bottom two weeks ago.
Notice, though, that the low in EWZ in March occurred with "positive divergence" (a series of higher lows) on the Moving Average Convergence Divergence (MACD) momentum indicator. This is often an early warning sign for a reversal from a downtrend to an uptrend.
With the dollar headed lower, EWZ has bounced higher over the past two weeks – putting in a series of higher highs and higher lows. This is the sort of positive price action that was missing in December. And it's a good sign that Brazil is kicking off at least a short-term uptrend.
EWZ now looks poised to challenge the first resistance line on the chart at about $33.35 per share. If it can get above that level, then it should be able to work toward the upper resistance line at about $37 over the next several weeks.
That's a gain of 18% from Tuesday's closing price. And it's a great way to profit from the falling dollar.
Best regards and good trading,
Jeff Clark