Great news for income investors...
The telecommunications sector is paying some of the biggest dividends in the market... And it's in a confirmed uptrend. You can take advantage of this trend to make 15%-plus annual income streams.
Telecom carriers have become essential to our way of life. These are companies like Sprint, Verizon, AT&T, and T-Mobile... And they operate as "toll bridges" for your phone and Internet.
Just as the owner of a toll bridge pays a small fortune on construction, then charges a fee when you pass over the bridge... telecom companies spend big money building fiber-optic and wireless networks, then charge monthly fees for you to access that network.
Today, there are over 400 million wireless subscribers in North America... And they pay an average of $54 a month to use their mobile devices, like cell phones and tablets. Folks who use the same company for a home phone, TV, and wireless services pay $150-$170 a month.
If you can get subscribers and hold onto them, it's a fantastic business that generates steady cash flows. And as America becomes ever-more addicted to text messages, YouTube clips, and streaming movies, the telecoms benefit.
The chart below shows the market agrees with this thesis. It shows the iShares Telecommunications Fund (IYZ) – a fund that tracks the telecom sector – is up 36% over the last three years... And shares recently touched a multiyear high.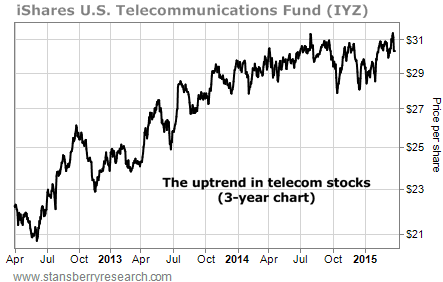 You could buy IYZ and do well as the telecom sector trends higher. But we like investing in this trend by structuring option-selling programs around dominant telecom providers like Verizon (VZ) and AT&T (T).
These two companies control a combined 75% of the wireless market and 66% of the "wireline" (home phone and Internet) market... And they've maintained dominant market shares for years. This has helped shares hold steady while they pay 4.5%-5.7% annual dividends. That's more than double the average dividend yield of the benchmark S&P 500 index.
Selling options for income is a strategy we've explained many times in the pages of
Growth Stock Wire
. It's a way to generate double-digit annual yields on a portfolio of conservative stocks. If you're not familiar with selling options, you can learn more
here
and
here
.
The telecom sector has a strong demand tailwind at its back. It pays big dividends. And as we've just shown you, the sector is trending higher. Make sure you're profiting from it today.
Regards,
Brian Hunt and Ben Morris