The Weekend Edition is pulled from the daily
Stansberry Digest
. The
Digest
comes free with a subscription to any of our premium products.
As
True Wealth Systems
editor Steve Sjuggerud has said many times over the years, "If you catch just one biotech bull market in your lifetime, you may never have to work again..."
And the returns in the ProShares Ultra Nasdaq Biotechnology Fund (BIB) – a double-long exchange-traded fund – supports Steve's statement. (Remember, the returns for BIB will be higher than a simple biotech index due to leverage. But the returns for the normal index are still incredible.)
BIB hit a low of $8.48 per share on August 8, 2011. It has soared to more than $160 today – a return of nearly 20 times in less than four years.
Steve has recommended BIB three times in
True Wealth Systems
since 2012. He recommended shares most recently in October. His subscribers are up 55% on the trade. But if you bought and sold BIB on Steve's recommendations since 2012, you've turned a $100,000 initial investment into nearly $800,000.
The thing is, moves like this in the biotech market aren't unusual...
Biotech booms are like nothing else in American investing... The potential gains – without leverage – are extraordinary. As one example, biotech stocks gained over 600% in their three-year bull run ending in 2000.
That wasn't a one-off occurrence... Biotech stocks have delivered triple-digit returns (or near-triple-digit returns) in many calendar years (based on the Datastream U.S. Biotech Index). Take a look:
Year

Percent

Return

1985

146%

1989

64%

1990

104%

1991

170%

1995

88%

1998

75%

1999

147%

It has been 15 years since we've seen a triple-digit year in biotech stocks. We're due for a great run in biotech. And right now, I believe we're in the middle of it...
Steve updated readers on his biotech thesis in
Monday's DailyWealth
. Despite the huge gains
True Wealth Systems
subscribers have made, Steve still isn't ready to sell. He presented the following chart showing that, while biotech stocks aren't cheap today, they're still far from the valuations we've seen at past peaks...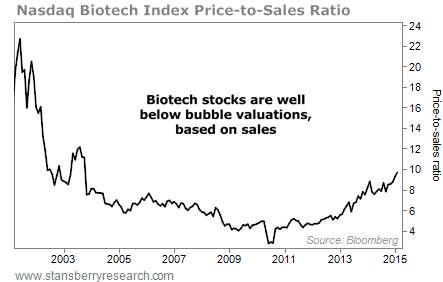 While Steve is investing in the biotech trend through exchange-traded funds like BIB,
Stansberry Venture
editor Dave Lashmet is looking for tiny, early stage biotech companies that are poised for huge gains.
In particular, Dave has been researching stocks that fight what the World Health Organization has called "one of the three greatest threats to human health" – antibiotic-resistant bacteria (or "superbugs").
More and more bacteria are becoming resistant to antibiotics today because of overuse. According to the U.S. Centers for Disease Control and Prevention, antibiotic resistance is killing 23,000 Americans a year, making it a real health threat.
Just months after Dave started telling subscribers about superbugs, we saw a scare on American soil. We wrote about it in the February 19
Digest
...
Superbugs attacked more than 170 patients at the Ronald Reagan UCLA Medical Center.
NBC News reported this week that an e-mail went out to 179 patients who had possibly been exposed after an investigation found seven patients infected. What's worse, the superbug may have contributed to two deaths.
UCLA identified the superbug as carbapenem-resistant Enterobacteriaceae (CRE). We know that's a mouthful to pronounce. But there are plenty more just like that one. They are antibiotic-resistant bacteria.
Dave explained more about superbugs in the December issue of
Stansberry Venture
...
Superbugs don't just resist one or two common antibiotics, like penicillin or methicillin. They can also resist third-line antibiotics like vancomycin. And some superbugs resist everything.
The Centers for Disease Control and Prevention estimates 23,000 people died in the U.S. in 2012 as a result of antibiotic-resistant bacteria. Europe sees a similar scale. Another 10,000 are estimated in Japan.
Projecting from current trends, the European Commission on Antibiotic Drug Resistance believes we could face 10 million deaths from superbugs by the year 2050. The only hope is new classes of antibiotics that the superbugs have never seen before.

Because this problem is so serious, Big Pharma has been spending a fortune to buy up small, promising biotech firms that are developing the drugs to fight superbugs.
Today, Dave is calling for another tiny biotech firm to be bought out...
This company is scheduled to announce final Phase 3 clinical trials in the middle of the year... Dave said it could happen in a matter of weeks. He has been tracking its trials and believes the testing is already finished.
The company just has to compile the data and tell the world if its new drug is a success.
Dave is bullish on this company's prospects. He says that, to date, the trials seem to have shown that this drug demonstrates all the government requirements for approval. And if it does get approval, he believes Big Pharma could buy the company in as little as 18 hours after the announcement.
That's why it's so important to get in now... We don't know when this announcement will take place.
You may be skeptical of Dave's ability to call this takeover. But he has already predicted two buyouts in the sector, which is currently in the midst of an acquisition tear.
The potential for this new company's drug is massive... And Big Pharma won't be able to resist its ability to help fight superbugs.
Plus, Dave's track record since we unveiled Stansberry Venture has been outstanding. He has recommended three companies since November (not including his latest). We can't share the names, per his request. But you can see the gains below (as of March 23):
| | |
| --- | --- |
| • | Venture recommendation No. 1 (recommended on November 19): 47% |
| • | Venture recommendation No. 2 (recommended on December 17): 190% |
| • | Venture recommendation No. 3 (recommended on December 30): 209% |
If you'd like to learn more about
Stansberry Venture
– our most exclusive service – Dave has put together a presentation telling you a little bit more... and sharing more details about the opportunity he sees right now.
You can watch it by
clicking here
.
Regards,
Sean Goldsmith