As regular Growth Stock Wire readers know, commodities like iron ore are tremendously cyclical. That means their prices go through big cycles of boom and bust. That's because the prices of commodities are based (almost) solely on supply and demand. If there's more supply than demand, prices will fall. But if there's more demand than supply, prices will rise.
So with a global oversupply of iron ore and a slowdown in demand from places like China, which is a huge consumer, iron ore prices have been in "bust" mode for the past few years.
As you can see in the chart below, iron ore prices are now near their 2009 low.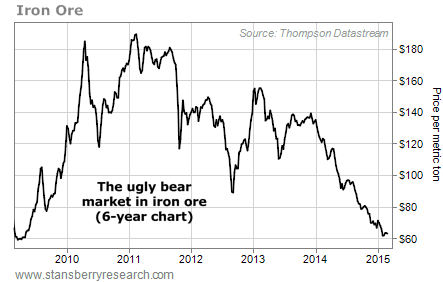 The big decline sent the share prices of iron ore miners down as well.
Shares of BHP Billiton, the world's largest iron ore miner by market cap, are down around 25% over the past year. Meanwhile, Rio Tinto, the world's second-largest iron ore producer, is down around 15%.
Giant Brazilian iron ore producer Vale is down around 50%. And Australian iron ore miner Fortescue Metals Group and U.S. producer Cliffs Natural Resources are down around 54% and 65%, respectively, during the same time frame.
But shares of these companies are likely headed even lower...
Despite global oversupply and falling prices, the world's largest producers of iron ore – BHP Billiton, Rio Tinto, and Vale – are not cutting back production.
Instead, they're ramping it up.
In January, Brazil's iron ore exports hit a nine-year high due to Vale's increased production.
Meanwhile, BHP Billiton has increased its iron ore production by 16% this year. And Rio Tinto's global iron ore production will rise 12% this year.
You see, while iron ore prices may be near their 2009 low – at around $60 per ton – they're still well above the cost of production for Rio Tinto, BHP Billiton, and Vale.
| | | |
| --- | --- | --- |
| Producer | Production Cost (per ton) | Iron Ore % of Total Revenue |
| Rio Tinto | $17 | 46% |
| BHP Billiton | $20 | 32% |
| Vale | $47 | 74% |
| Fortescue Metals Group | $41 | 100% |
| Cliffs Natural Resources | $58 | 85% |

So Rio Tinto, BHP Billiton, and Vale still have solid profit margins on the iron ore they're producing. Importantly, these companies also don't rely on iron ore for 100% of their total revenue.
Meanwhile, higher-cost producers that rely on iron ore for the majority of their revenue, like Fortescue Metals Group and Cliffs Natural Resources, are seeing their profit margins and total revenue shrink.
With iron ore prices falling, there has been pressure on Rio Tinto, BHP Billiton, and Vale to cut back their production – similar to the pressure being put on Saudi Arabia to cut oil production and prop up the oil price.
But like Saudi Arabia, they're refusing.
Rio Tinto's CEO, Sam Walsh, said in a company release that if Rio Tinto cut supply, higher-cost producers would simply fill in. He believes that lower prices will force out higher-cost competition in the sector.
"Now I know there are some people hanging on by their fingernails," Walsh said recently in a company report. "You can only do that for a certain time and sooner or later you've got to recognize the reality of life."
In short, the big miners are trying to push some of their higher-cost competition out of business by squeezing their profit margins. When these producers leave the sector, iron ore production will fall... and prices will increase when the supply/demand gap starts to close.
But for this to happen, iron ore prices – and the share prices of iron ore producers – have to continue to fall.
So, the bear market in iron ore continues... For now, stay away from iron ore miners.
Good investing,
Brian Weepie