But stock markets don't usually crash when everyone is looking for it to happen. In February, there were far too many people calling for a crash. So I said any short-term weakness in the market would likely be followed by a rally.
That's exactly what happened. Last week, the S&P 500 hit a new all-time high at 2,119.
And there's likely more upside ahead – at least in the short term...
Over the past few months, I've told you several reasons to be cautious on stocks.
Market-leading stocks like Intel
, Microsoft, and Wal-Mart are lagging behind and starting to roll over.
But it's still too early to get aggressively bearish on stocks.
You see, junk bonds (corporate debt that is rated lower than investment grade) have surged higher over the past few weeks.
To see this in action, take a look at this chart of the iShares High Yield Corporate Bond Fund (HYG)...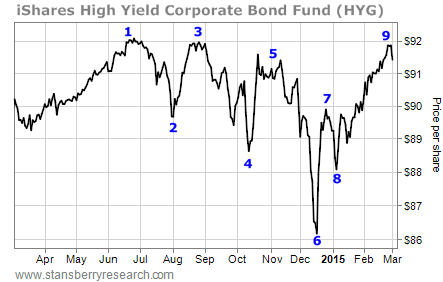 I've numbered the peaks and bottoms that have occurred in this market since around June.
Now, take a look at this chart of the S&P 500...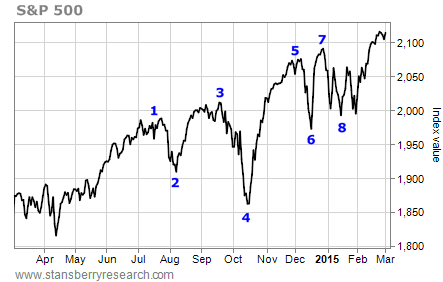 Notice how the peaks on the HYG chart (numbered 1, 3, 5, and 7) happened about two weeks prior to the peaks in the S&P 500 chart. The bottoms on the HYG chart (numbered 2, 4, 6, and 8) occurred about two weeks prior to bottoms on the S&P.
Today, HYG is near its highest point of the year. So we can't get too bearish on stocks until it trends lower for a couple of weeks.
That doesn't mean you shouldn't be cautious on stocks. As I said, there are still several warning signs today. So there's probably limited upside left in the market. But if you're looking to make large bets on a falling market, it's still at least a couple of weeks too early.
Best regards and good trading,
Jeff Clark