Investors betting on higher oil prices right now might be in for a nasty surprise...
As regular Growth Stock Wire readers know, oil prices have collapsed over the past year. They've fallen from a high near $107 per barrel in June 2014 to a recent low of $44 per barrel in January. That's a nearly 60% fall in less than a year and a half.
Oil stocks have fallen too. The Energy Select Sector SPDR Fund (XLE), which holds a basket of major oil stocks, fell 28% in the same timeframe.
But recently, XLE has been moving higher. It's up around 9% since its January low. Investors are convinced oil prices have to increase soon... so they're pouring into oil stocks.
These folks are making a mistake...
Theoretically, scaling back on drilling should send oil production tumbling... and oil prices soaring in the months ahead as supply falls closer to demand. That's why investors are jumping back into the sector.
There's just one problem with this line of thinking...
Despite cutting back, oil production hasn't started to slow down. You can see this in the chart below. U.S. oil production is at its highest level since 1973.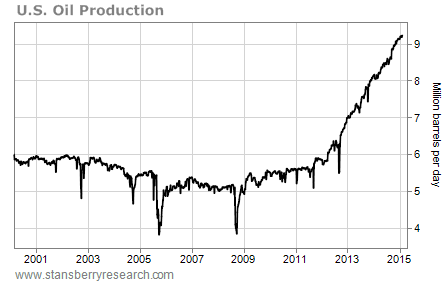 Meanwhile, the Energy Information Administration (EIA) says worldwide crude oil production is expected to exceed demand by 900,000 barrels of oil per day during the first half of this year.
The reason for the increase in production – despite oil producers cutting costs – is that new drilling techniques – like fracking and horizontal drilling – are allowing U.S. producers to tap into oil and gas reserves in shale more economically.
And now, oil-services companies are making it even more economical.
Oil-services companies provide drilling equipment and service crews to oil producers. In short, these companies can't survive unless oil producers are drilling wells. So they're cutting their costs across the board – making it cheaper for oil producers to drill. The costs to drill and complete wells have already come down 20%.
According to Brian Singer, head of Goldman Sachs' Energy, Americas research group, these costs could fall another 20%.
This means we could see costs fall by 40% in total in the months ahead, as oil-services companies work to get oil producers back in the field drilling.
Cutting the cost of wells is changing the playing field. It's keeping companies drilling in the better parts of the Eagle Ford and the Bakken. And it will keep U.S. oil production from rapidly falling.
We don't know how much of an impact it will have. But as long as oil production continues to outpace demand, we won't see a bottom in oil prices. In short, it's unlikely we'll see higher prices until the end of this year – at best.
And as soon as investors see oil prices aren't increasing over the next few months, they'll head for the exits... and oil stocks will fall again.
So I would think twice about investing in most oil stocks right now. There's likely more downside ahead.
Good investing,
Matt Badiali