By Brian Hunt and Ben Morris, DailyWealth Trader
Monday, February 23, 2015
You probably have a firm stance on Europe's currency, the euro...
As an investor who reads the news, you know Europe is a financial mess. You know many European governments are up to their eyeballs in debt.
You might even "know" the euro is doomed...
But betting on a lower euro right now is riskier than you might think...
Talk of a falling euro is all over the news.
Everyone else knows what you know
. And
being bearish on the euro is the consensus view
.
This situation brings to mind an insight from one of the best trading books you've probably never read,
The Way of the Dollar
, by currency expert John Percival. The book is a treasure trove of wisdom on how markets work... and why knowing about crowd psychology will help you trade them.
In the book, John warns us, "
Never forget that the consensus usually includes you
."
John's warning means we should all be on the lookout for "crowded trades"... And when the price action doesn't agree with the consensus, we should avoid them. The market just likes to inflict pain on as many people as possible, all the time.
When everyone "knows" an asset should head lower... when it's all over the news... when the trade feels "easy" to make, that's when the trade is the most dangerous.
From July 2014 through January 2015, the U.S. dollar enjoyed a huge 19% run, which is a stupendous short-term move for a major currency. It's a move that has drawn a crowd of trend-following traders into the market... and has generated enormous levels of dollar bullishness.
But the dollar hasn't been climbing over the last month. Instead, it has fallen a bit from its late-January peak. As traders who know the market likes to punish the crowd, we expect a dollar correction soon.
Since currencies trade relative to each other, extreme dollar bullishness also means extreme euro bearishness. A dollar correction means a euro rally.
We can monitor bearish euro sentiment with the "Commitment of Traders" (COT) report. This government report classifies market participants and tracks their positions. Some participants – like international corporations – take positions in the euro to reduce the risk of currency fluctuations. Other participants are traders who bet on those fluctuations.
As you can see in the 10-year COT chart below, speculators are extremely bearish on the euro. They're betting more enthusiastically on a euro decline than at any point in history... except in mid-2012.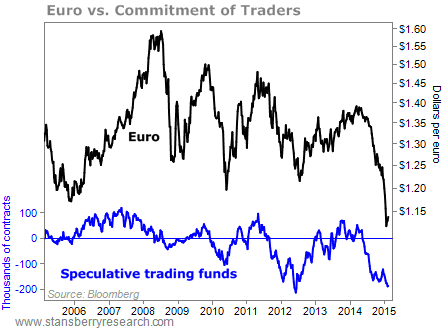 Shortly after the previous bearish sentiment extreme in 2012, the euro rallied 9% in less than two months relative to the U.S. dollar... and then another 4% over the coming four months. We see a similar move setting up today.
In short, the bearish euro trade makes all the sense in the world today. It's all over the news. Everyone knows about it. It makes so much sense, speculators have made massive bets on a decline... and the trade has gotten crowded.
But recent price action doesn't match up with the consensus today. The dollar is drifting lower... and the euro is heading higher.
We agree that over the long-term, the euro is likely to head lower. But euro bears will likely be punished in the short-term. The next time you "know" a trade is going to work out, take a look at a few sentiment indicators, like the COT.
Look around to see if everyone knows it as well.
Never forget that the consensus usually includes you
.
This knowledge could lead you to a lifetime of successful trading.
Good trading,
Brian Hunt and Ben Morris
P.S. You can visit John's website – Currency Bulletin –
here
. As we mentioned, his book,
The Way of the Dollar
, is excellent... and available with a subscription to his currency newsletter.
And for a quick, free look at current COTs, check out the "Futures" section of
finviz.com
. (We receive zero compensation for mentioning John's work, or finviz. We just like them.)
Further Reading:
To make extraordinary gains, you don't want to buy assets everyone else wants. Instead, Brian says "you must buy an asset near the point of maximum pessimism. Be on the lookout for desperate, blown-out sectors, commodities, and countries." Get all the details
here
.
Last year, Brian revealed
one of the all-time great investment secrets
. He says, "You won't hear about it in the mainstream media... and very few people want to publicize this idea... but it's one of the safest, easiest ways to make great investments."
Credit-card company
MasterCard
rises to an all-time high.
Tech giant IBM touches a new three-month high.
Gaming stocks
are working on an uptrend… casino fund
BJK
is up 12%-plus in one month.
Symbol
Price

Change

52-Wk
Symbol
Price

Change

52-Wk
Symbol
Price

Change

52-Wk