Copper was sitting precariously close to an important long-term support level. If it broke down, I said it could lead to a sharp decline.
That's exactly what happened.
The price of the metal has fallen 13% so far this year.
But now, the "ugliest chart in the market" is starting to look a little better...
Take a look at this updated weekly chart of copper...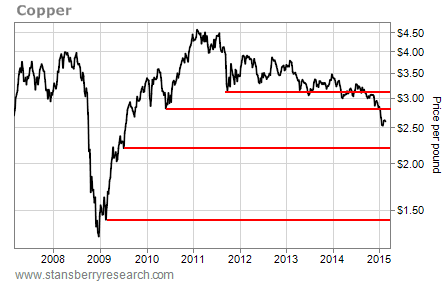 As I said, the price of copper has fallen 13% so far this year. And looking just at this weekly chart, the metal could fall further from here before hitting support at about $2.20 per pound.
But if we zoom in closer and look at a daily chart, things don't look so bad for copper...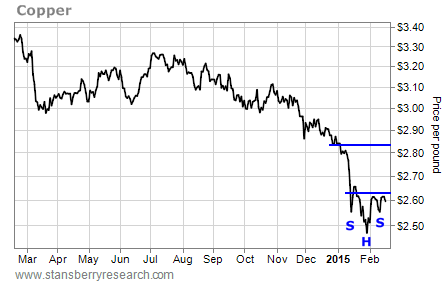 Since hitting a low of about $2.40 per pound three weeks ago, copper has rallied and formed a higher low on the chart. That's a good short-term sign.
Even better, the chart now has the makings of an inverse "head and shoulders" pattern. In other words, the chart has bounced off the bottom, pulled back to form a higher low, and then rallied again to a higher high. This is a bullish pattern that typically marks the end of a downtrend and the start of a new uptrend.
If copper can rally above last week's high of $2.60, then the pattern indicates there will be a move all the way up to $2.80 per pound. In other words, copper looks poised to rally and recover all of its losses for the year so far.
But before we get too excited about a new uptrend in copper... go back and take another look at the long-term weekly chart.
The $2.80 short-term upside target lines up with the previous support line on the weekly chart. That area is now resistance for the price of copper. The metal is not likely to break through that level on the first attempt.
So while copper looks good in the short term, there's still work to be done before it looks good on the longer-term chart. But the "ugliest chart in the market" is starting to look a little better.
Best regards and good trading,
Jeff Clark