Gold stocks fell again last week.
While the S&P 500 gained 2% and closed the week at a new all-time high, the benchmark Market Vectors Gold Miners Fund (GDX) lost 0.3%. That's on top of a 4.3% drop the week before.
It's not... The gold sector is poised for at least one more push higher...
Take a look at this chart of GDX...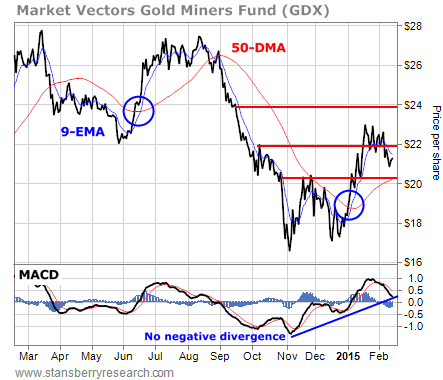 The gold-stock rally started in early January when GDX's nine-day exponential moving average (EMA) crossed above its 50-day moving average (DMA). This "bullish cross" tends to kick off big moves in the gold sector... and this time was no exception.
GDX rarely strays more than 10% from its 50-DMA before coming back to test the line as either support or resistance. So the gold sector was due for a pullback, or at least a brief consolidation period, to work off the overbought condition.
That's what we've been seeing over the past two weeks. GDX pulled back and is now consolidating. But it's likely about to head higher.
You see, at the high in January, there wasn't any negative divergence on the Moving Average Convergence Divergence (MACD) momentum indicator. In other words, the MACD rallied to a higher high right along with GDX. This means the uptrend is strong and GDX probably has at least one more push higher in this short-term rally phase.
The recent consolidation is giving the nine-day EMA and the 50-DMA time to come together. And it's giving the 50-DMA time to move up closer to the current price of GDX. This action will build the energy necessary for the next move higher.
We're getting close to that move. It could start as early as this week. If GDX can rally back above $22 per share, it should be a fast move higher toward the $24 resistance level.
If you own gold stocks, then hang on. There are more gains ahead.
If you don't own gold stocks, the recent pullback is giving you a great opportunity to get in before the next push higher.
Best regards and good trading,
Jeff Clark