You could feel the excitement building last week as the stock market shrugged off January's decline and jumped into rally mode.
At the high of the day on Friday, the S&P 500 had gained 3.5% in a week. It was positive for the year.
Now, the talking heads on financial television are giddy with bullishness and urging viewers to buy into the stock market.
But two trustworthy indicators are warning that last week's rally could be one giant "bull trap"...
Another way to tell where stocks are likely headed next is by watching semiconductor giant Intel.
In January, both Intel and the stock market pulled back. Now, the S&P 500 has recovered from its January weakness and is trading back above its 50-day moving average (DMA) – which is often seen as the "line in the sand" separating intermediate-term uptrends from intermediate-term downtrends.
But shares of Intel have barely budged off their bottom. And the stock remains well below its 50-DMA. Take a look...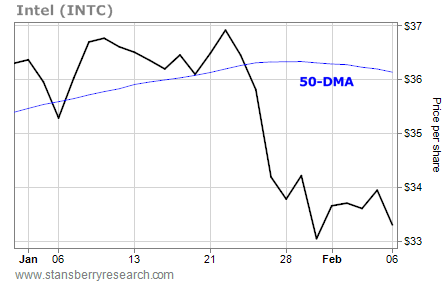 The stock market is going to struggle to move higher if Intel doesn't move higher with it.
But the most glaring signal that last week's action in the stock market was one giant "bull trap" that is suckering investors into buying just before the market reverses is the pricing disparity in Volatility Index ("VIX") options.
Regular readers are familiar with VIX options. VIX options are European-style contracts – meaning they can only be exercised on option-expiration day. And they are a terrific short-term indicator for the stock market.
You see, most folks use the VIX as the stock market's fear gauge. It's a contrary indicator. When the VIX is high, investors are fearful and a market bottom is likely near – so we want to buy. When the VIX is low, investors are complacent and we're probably close to a short-term top in stock prices – so we want to sell.
But it's the trend of the VIX that helps show the immediate direction of the market. For example, a rising VIX typically means fear is building and stock prices are falling. A falling VIX occurs as investors get more comfortable and stocks are rallying.
To see the trend of the VIX, we look at VIX options. They tell us where most traders expect the VIX to be in the future.
And based on the prices of VIX options at the close of trading Friday, traders expect the VIX to rise over the next week.
The VIX closed Friday at 17.29 – near the lower end of its recent trading range between 15 and 22. The VIX February 18 call options – which expire next Wednesday – closed at $2.40. Meanwhile, the VIX February 18 put options were trading for just $0.80. That's a remarkable price disparity with just one week until option-expiration day.
Option traders were willing to pay three times more to bet on the VIX moving higher than on it moving lower by option-expiration day next Wednesday. And since increased volatility usually comes with falling stock prices, VIX options are predicting a market decline.
Traders should be cautious here. The poor action in Intel shares and the price disparity in VIX options suggest last week's rally was a bull trap. Stocks could be headed lower from here.
Best regards and good trading,
Jeff Clark