The Weekend Edition is pulled from the daily Stansberry Digest. The Digest comes free with a subscription to any of our premium products.
1,000% gains may be on the horizon...
Yes... the possibility of a 1,000% gain sounds absurd. But longtime investors in the junior resource sector have seen that kind of gain many times. This sector – which involves early stage gold projects, "all or nothing" oil-drilling ventures, and the like – is one of the market's most explosive sectors.
It only takes one bull market in junior resources to make you rich. When these stocks rise, they don't just double... they can make you five or 10 times your money... or more.
And that's no exaggeration. Just look at our "Hall of Fame" at the bottom of each Digest issue. It's the top 10 highest-returning closed positions in our company's history. Half of them – five – are junior mining firms.
Our top-returning position of all time is Steve Sjuggerud's recommendation of Seabridge Gold. It returned 995% in just more than four years.
The lowest return of the five junior miners in our Hall of Fame is 322% in a little less than two years.
As you can see from the five-year chart of the Toronto Venture Exchange – the widely followed gauge of small-cap resource firms – the past few years have been a brutal bear market for these kinds of stocks...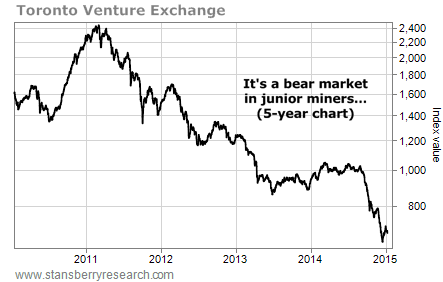 The resource markets regularly go through boom and bust cycles. Developing resource projects is hugely capital- and time-intensive. And because of this long timeline, the resource market can't adjust to supply and demand imbalances as quickly as other markets can.
When demand exceeds supply in most markets, you see a relatively quick reaction from producers to meet the new demand. Compare this to resources like copper or gold... Before you can produce it, you have to go find it and build a mine. The exploration cycle – the pre-development cycle – can take up to 10 years. In the meantime, prices can soar while the market waits for that increased supply.
Making things worse is that many companies will continue to produce resources even if they're selling below production costs... Because sometimes it's cheaper to lose money than it is to shut down a mine and start it back up again. Or a producer will keep producing, hoping its competition will go out of business. Then, when prices swing higher, that producer will be in prime position.
In the latest issue of the
Stansberry Resource Report
, editor Matt Badiali explained that you have the opportunity to make a fortune in junior resource stocks every seven years or so... You just have to wait for sentiment to hit an extreme low, or "wait for the crickets," as he said...
My friend Miles Thompson heard the crickets back in 2009 at the New Orleans Investment Conference. Back then, resource stocks were coming off one of the worst bear markets in their history. At the time, the world was recovering from the 2008 credit crisis. Resource stocks fell more than 80% during the tough times. Since people were reeling from the crisis, no one wanted anything to do with natural resources.
Sentiment was so bad that nobody showed up to hear Miles' presentation on his company, Lara Exploration. Instead of investors, there were a handful of other company executives. Instead of applause, he heard crickets.
I heard crickets around that time as well. After the huge selloff, I found dozens of high-quality resource stocks trading below their intrinsic values. I urged people to buy them. But since people were burned so badly in 2008, my advice was met with the sound of crickets.
Instead of being scared out of the sector, Matt jumped on the opportunity to recommend a handful of small resource companies...
In 2009, he urged Stansberry Resource Report subscribers to buy shares of elite silver royalty firm Silver Wheaton. His subscribers made 345% in a year and a half.
In the November 2009 issue of Phase 1 Investor, Matt recommended three junior stocks: Rainy River (which climbed 161% in two months), AuEx Ventures (which was bought out for a huge gain of 198%), and ATAC Resources (which soared 597% and now holds the No. 3 spot in the Stansberry Research Hall of Fame).
Matt is hearing crickets again. Investors hate resource stocks today. (A stronger dollar and oil's fall to $47 a barrel has only increased that sentiment.) So Matt is again recommending a handful of small resource stocks to take advantage of the blown-out sector.
One of the stocks Matt recommended was junior uranium explorer Fission Uranium. Here's what he had to say...
The company owns one of the best new discoveries in the world, in any mineral. Its Patterson Lake South (PLS) uranium deposit is world-class and growing larger with each drill program. Even better, the deposit is located in the Athabasca Basin in Canada... This region of Saskatchewan, Canada produces about 19% of the world's uranium annually. It is to uranium what the Carlin Trend in Nevada is to gold. Some of the world's greatest uranium mines, like Cigar Lake, Rabbit Lake, McArthur River, and Shea Creek are all here.
The last great deposit in this region, called Roughrider, was discovered by Hathor Exploration. Mining giant Rio Tinto outbid rival miner Cameco to acquire Hathor in January 2012 for about $642 million. I expect Fission will soon go to the highest bidder as well.
What's special about PLS is its grade. The average uranium grade around the world is less than 0.4% uranium per ton. In other words, for every ton of ore, you end up with eight pounds of uranium. The average grade of uranium in PLS is 2%. That means instead of eight pounds, you wind up with 40 pounds. That's five times as much uranium as the typical mine.
Matt expects that like Hathor, Fission will also get bought out. And after the announcement Fission made last Friday – just two days after Matt's recommendation – a deal may come sooner than expected.
Fission announced an initial 105-million-pound resource at the PLS deposit. Most analysts were expecting 50 million to 80 million pounds... Fission blew that estimate away.
Shares rose as much as 23% before settling in up around 15% on the news. And Matt believes there's still room to run.
In total, Matt recommended five beaten-down resource stocks in his latest Stansberry Resource Report issue, out last Wednesday. As of Thursday's close, these stocks were up an average of 13%. But if he's right, all five of these stocks could soar hundreds of percent from here.
Even if you decide not to buy resource stocks today, you should still keep this list of companies handy... They're five of the best junior-mining stocks on the planet. As Matt wrote...
We have a tremendous opportunity in junior miners today. As my colleague Dr. Steve Sjuggerud likes to say, they have the three hallmarks of a great contrarian trade... They're cheap, hated, and in an uptrend.
You can access the names of these five stocks with a subscription to the
Stansberry Resource Report
. Right now, we're offering a full year of Matt's service for $39 – a full 60% off the retail price. And if you decide it's not right for you, we're offering a four-month, 100% money-back guarantee.
Click here to learn more
.
Regards,
Sean Goldsmith