Oil tycoon Harold Hamm is about to lose a lot of money.
Hamm is a smart businessman. He has been drilling for oil for more than 40 years. And he's the founder and CEO of shale-oil giant Continental Resources.
But he recently made a common investment mistake. It's one you could be making right now... and it could cost you.
Let me explain...
Under Hamm's leadership, Continental Resources became the largest land owner in North Dakota's Bakken Shale. The company's sales jumped from $630 million in 2009 to an expected $4.3 billion last year.
Its oil production also exploded... by more than three and a half times – to around 35 million barrels of oil – from 2009 to 2013.
But the company recently made a huge wrong bet on the crude oil price.
As regular Growth Stock Wire readers know, crude oil prices started falling in July. By the beginning of October, the price of benchmark West Texas Intermediate (WTI) crude oil was down from more than $105 per barrel in July to around $90 per barrel – a 14% decline.
But Continental was hedged against a fall in oil prices. You see, the company had guaranteed contracts to sell more than 40 million barrels of its crude oil for around $90 per barrel from 2014 through 2016.
However, Hamm thought oil prices would soon rebound to more than $90 per barrel.
"We view the recent downdraft in oil prices as unsustainable given the lack of fundamental change in supply and demand," he said in a statement.
So in October, the company closed nearly all of its guaranteed oil contracts for 2014 through 2016 for a $400 million gain. It did this to "fully participate" in an oil-price recovery. Continental must now take the daily price of crude oil for its oil production.
If oil prices had rebounded, Continental would have profited from being able to sell its oil for more than $90 per barrel. But that didn't happen.
As you can see in the chart below, WTI crude oil has fallen around 50% since the beginning of October. It's now at around $46 per barrel.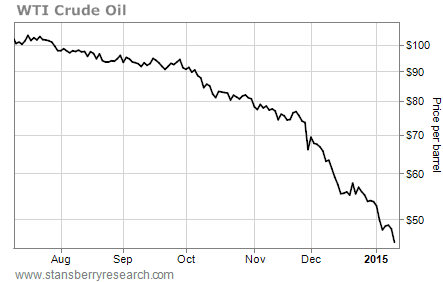 One industry insider told us prices in the Bakken are under $40 per barrel right now. This means Continental will take at least a $50 hit per barrel of oil from last quarter. If oil prices stay at this level for the rest of the year,
Continental's move will cost it about $1.6 billion
.
Hamm's a smart guy. But he made one common mistake: Not respecting the trend.
You see, as legendary market analyst Martin Zweig says: "Markets often rise higher than you think is possible, and fall lower than you can possibly imagine."
When Hamm lifted the hedges, he assumed oil prices couldn't fall much lower given the fundamentals. But trends can last a long time... and markets can fall much lower than you can possibly imagine.
That's why you never want to bet against a major uptrend or a major downtrend. You must either trade with the trend or step aside.
And as you can see from the chart above, oil is still in a major downtrend. It might be tempting to try to guess the bottom right now and load up on oil stocks... but it could cost you a lot of money. It's better to miss the start of an upturn then continue following the price down.
We likely aren't far from the bottom in the crude oil price, but for now, respect the trend and wait to invest in oil stocks.
Good investing,
Brian Weepie