The downtrend in copper continues.
Take a look at this weekly chart of copper...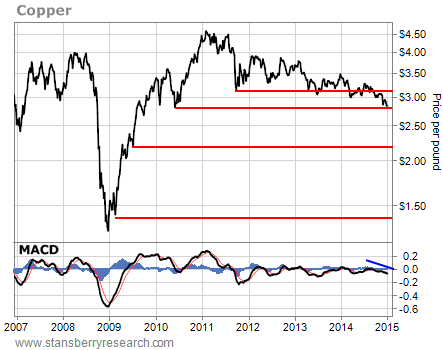 Now that copper has hit that long-term downside price target, I'd love to tell you the price is ready to reverse and copper should head higher from here. But I can't. The chart is just too ugly.
Look at the Moving Average Convergence Divergence (MACD) momentum indicator at the bottom of the chart. It has been falling over the past several months along with the price of copper. This means the downtrend is intact and the price is likely to continue lower.
If copper breaks below the $2.80 level, it could kick off a steep decline all the way down to the next support line at $2.20. A failure to hold that level then brings the $1.40 support line into play.
We've seen this sort of "waterfall decline" in copper before. Just look at the action back in 2008 – when copper fell from $4.00 per pound all the way down to $1.30 in just six months. It looks like something similar could happen again.
Best regards and good trading,
Jeff Clark
Further Reading:
Find more of Jeff's recent market research right here:
Is It Time to Buy Energy Stocks?
"Energy-related stocks have been crushed over the past several weeks. With these stocks down so much, many investors are wondering if it's time to buy..."
Get Ready to Buy Brazil
"I expect Brazil's stock market will be higher six months from now than where it is today..."