Energy-related stocks have been crushed over the past several weeks.
The price of oil falling from more than $100 per barrel in August to about $55 per barrel today has caused many energy companies to trade at their lowest levels in years – even decades.
Big oil companies like ExxonMobil, Chevron, and ConocoPhillips are down anywhere from 17% to 28% since peaking this past summer.
And oil and gas exploration companies like Denbury Resources and Swift Energy are down anywhere from 50% to 80% since their summer highs.
With these stocks down so much, many investors are wondering if it's time to buy...
To see where energy stocks are likely headed, let's take a look at this chart of the benchmark Energy Select Sector SPDR Fund (XLE)...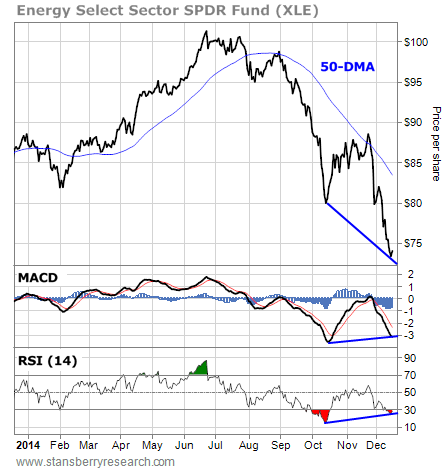 XLE closed Tuesday about 12% below its 50-day moving average (DMA). That's about as far as the fund usually stretches before coming back toward the line.
Notice also how the Moving Average Convergence Divergence (MACD) momentum indicator and the 14-day relative strength index (RSI) – two measures of overbought and oversold conditions – are oversold and showing positive divergence. In other words, while XLE has been making lower lows, the MACD and RSI have been making higher lows. This positive divergence is usually the first sign of an impending reversal.
In short, the proverbial rubber band for most energy-related stocks is stretched about as far as possible. So we're likely to see one heck of a "bounce-back" move get started soon. That will set up a good chance to trade energy stocks.
For the longer term, though, there has been so much technical damage done to the sector, it's going to take several weeks or even months before we can expect to see any sort of sustainable rally develop.
The stocks first have to stop falling. Then they'll need to consolidate, chop back and forth for a while, and build up energy for a rally.
That's going to take time.
So while it looks like the energy sector is setting up for a good short-term bounce that traders can look to profit from, longer-term investors should wait for a more sustainable bottoming pattern to form before taking aggressive positions in the sector.
Best regards and good trading,
Jeff Clark