The stock market is poised to rally 5% over the next two weeks.
That probably sounds crazy coming from me. I'm the one who told you to
be cautious on stocks
two weeks ago.
At the time, the stock market looked dangerous. Technical indicators like the New York Stock Exchange (NYSE) Summation Index and the action in the junk-bond market were warning of a decline.
That's what we saw last week. The S&P 500 fell 3.5%. The market is now underwater for December.
This has many traders wondering whether or not the "Santa Claus" rally (an end-of-year boost in prices) will show up this year.
It will...
Two of my favorite indicators are the NYSE McClellan Oscillator (the "NYMO") – a measure of overbought and oversold conditions – and the Volatility Index (the "VIX") – Wall Street's fear gauge.
As I've shown several times this year, extreme moves in these indicators often precede big moves in the stock market. But the most powerful of these moves happen when both the VIX and the NYMO hit extreme levels at the same time.
That's what happened on Friday.
Take a look at this chart of the NYMO...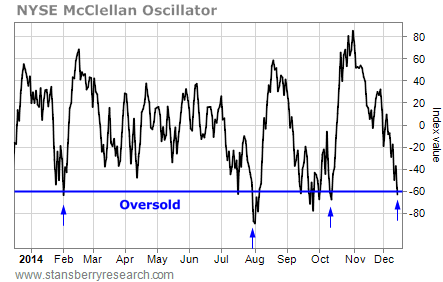 Readings above 60 on the NYMO point to overbought conditions and often mark the end of a rally in the market. Readings below -60 point to oversold conditions and often mark the end of a downtrend in the market. As you can see on the chart, the NYMO closed below -60 on Friday.
Now, let's look at the VIX plotted with its Bollinger Bands...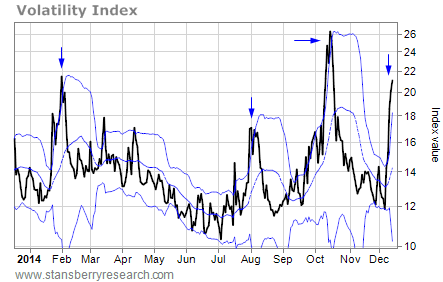 Bollinger Bands measure the most likely trading range for a stock or an index. Any time an index moves outside of its Bollinger Bands it indicates an extreme move – one that is likely to reverse.
Since the VIX is an excellent contrary indicator, extreme moves to the upside indicate oversold conditions in the stock market. With the VIX closing above its upper Bollinger Band on Friday, stocks are now in oversold territory on this indicator as well.
As I said earlier, the NYMO and the VIX hitting extreme levels at the same time typically precedes big moves in the stock market. The blue arrows on the charts point to the past three times this happened.
Now look at how the S&P 500 behaved following these conditions...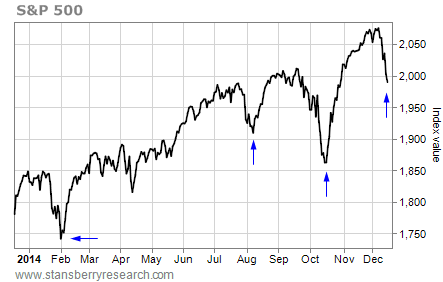 The past three times the NYMO closed in oversold territory and the VIX closed above its upper Bollinger Band, the S&P 500 rallied an average of more than 5% within the next two weeks.
I expect we'll see something similar this time as well.
The bottom line is: The short-term decline in the stock market has played out. And now, two of my favorite indicators have reached oversold levels... which is a good sign a rally is headed our way. It may only last a couple weeks. But it could be worth a quick 5% or more move higher.
Best regards and good trading,
Jeff Clark